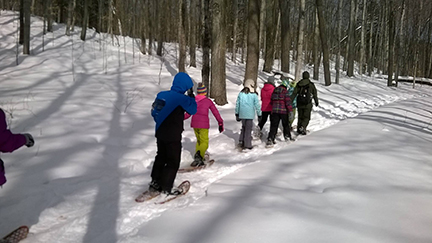 News Release Date:
January 7, 2016
Sleeping Bear Dunes National Lakeshore (National Lakeshore), with the help of a grant from the National Park Foundation's Ticket to Ride Program, offers personalized snowshoe field trips for students during January, February, and March. Learn about winter ecology and snow science in a hands-on, experiential format while hiking on snowshoes through the National Lakeshore. The Ticket to Ride grant funding has been claimed and 875 students will be snowshoeing at the National Lakeshore this winter. Space is still available in January and March, and transportation costs will be paid by the Friends of Sleeping Bear Dunes. The goal is to bring 1,000 students to the National Lakeshore for a winter snowshoe experience. If you are interested, please submit the application to Park Ranger Lisa Griebel at lisa_griebel@nps.gov.
The pre and post visit activities were developed to help build background knowledge and create excitement for the hike, extend learning, and give students the opportunity to be creative and connect learning to the real world. The lesson during the hike will allow students to explore concepts in winter ecology and snow science in a hands-on, experiential format. The lessons are designed to work together, yet can be used in a mix and match way based on student interest and needs.
The program is open to all grades and the National Lakeshore is scheduling reservations on a first come, first served basis. The grant covers transportation costs only. By applying for a field trip, you agree to do pre-visit activities in your classroom, attend the onsite ranger-led snowshoe hike, complete a post visit wrap-up activity, and provide feedback about your experience.  This project was made possible by a grant from the National Park Foundation through the generous support of Disney.
Visit the park education web page for additional information on how to apply, program objectives and to access the pre and post-hike activities.  For questions about transportation payment/reimbursement, trip details, or activities, please call Park Ranger Lisa Griebel at (231) 326-4726 or email her at lisa_griebel@nps.gov.