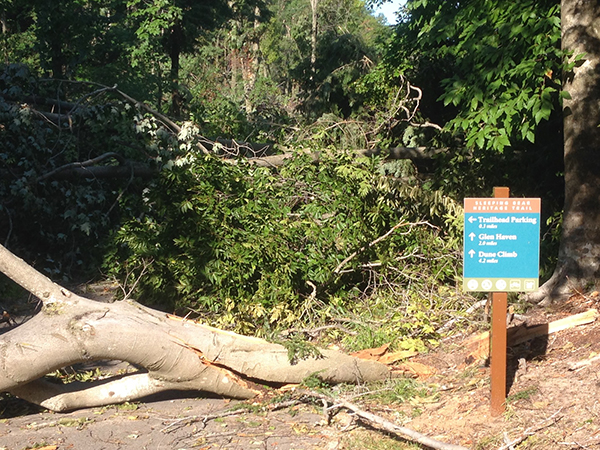 News Release Date:
August 6, 2015
Sleeping Bear Dunes National Lakeshore (Lakeshore) continues to recover from the Sunday, August 2 windstorm. National Park Service crews from the Lakeshore, Indiana Dunes National Lakeshore, and North Country National Scenic Trail are making progress clearing closed areas of hazardous trees. Power has been restored to the Philip A. Hart Visitor Center in Empire, and it is now open.  Crews are completing the clean-up of the Glen Haven Historic Village and Maritime Museum today. Those areas will reopen tomorrow, August 7. Due to safety concerns and lack of facilities, the following areas remain closed: the Pierce Stocking Scenic Drive; Dune Climb and Dune Trail; and DH Day Campground and Group Campground. Numerous Lakeshore trails are also closed due to extensive tree damage. At this time, the Sleeping Bear Heritage Trail is open only from the Crystal River Trailhead to Port Oneida Road. 
The Lakeshore is asking the public not enter closed areas. These areas may still contain downed power lines and hazardous trees. By entering closed areas they are endangering themselves and the work crews. Also, when people enter areas with crews, work must stop–causing delays in the reopening of Lakeshore attractions. 
People entering closed areas may be ticketed by Lakeshore Law Enforcement Officers.