News Release
Sleeping Bear Dunes Celebrates with New Mobile Visitor Center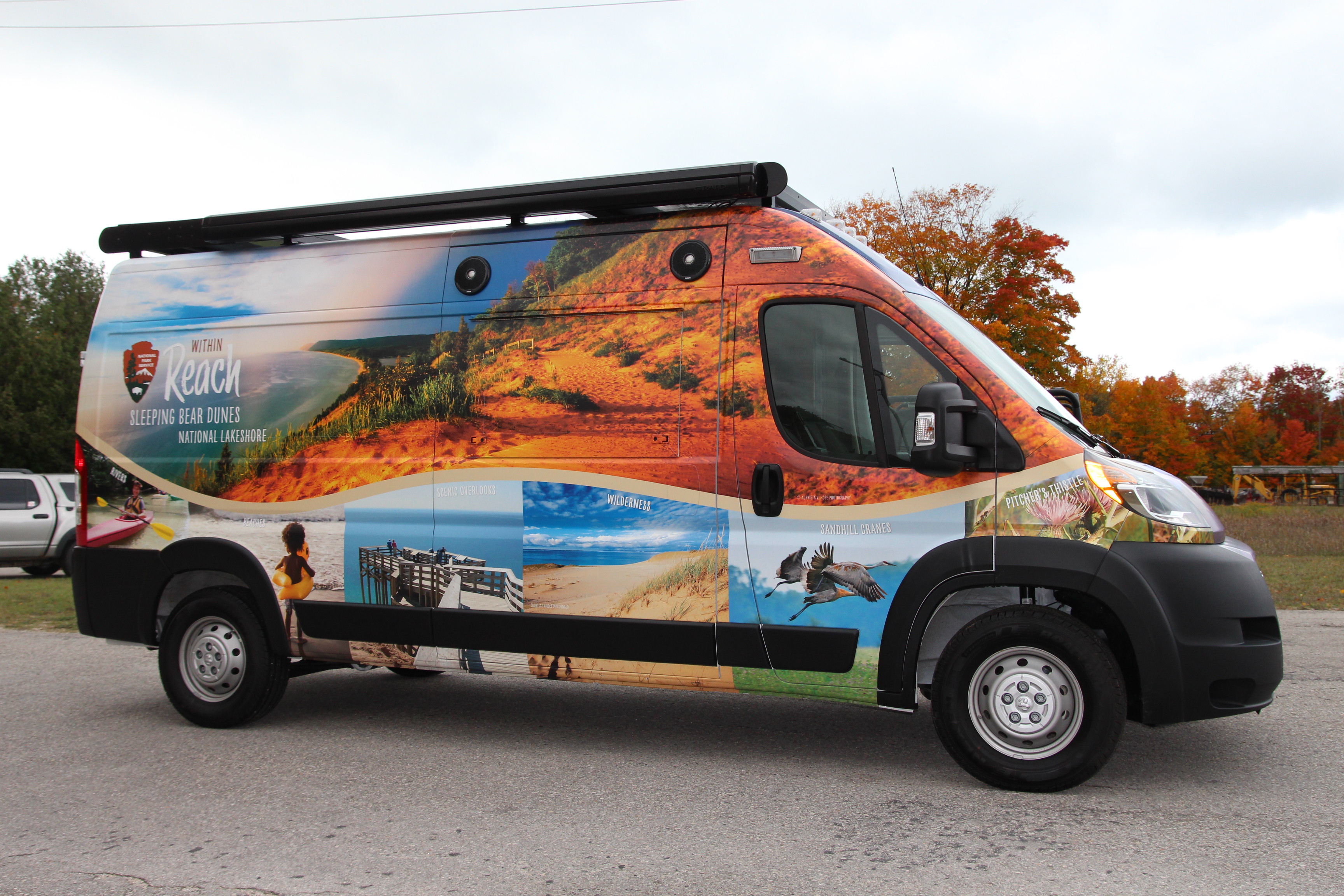 News Release Date:
October 16, 2020 Sleeping Bear Dunes National Lakeshore (National Lakeshore) is pleased to announce the delivery of a mobile visitor center to the park--just in time for its 50th anniversary! The mobile visitor center is a custom-designed van that will help park rangers reach people who don't usually get to visit the National Lakeshore. Park interpretive staff will be able to visit underserved communities throughout the state, including urban areas, to bring them a bit of Sleeping Bear Dunes and perhaps introduce them to the National Park Service. This vehicle will serve as a mobile contact station at outreach events throughout Michigan and possibly elsewhere in the upper midwest region once it is again safe to do so.
The new visitor center arrived at the park on October 15 and will be used right away to support the National Lakeshore's 50th anniversary. If weather permits, park staff and the mobile visitor center will be popping up throughout the park on Saturday, October 17, and again on the anniversary day itself, Wednesday, October 21. Look for it at popular locations within the park and please stop and check it out, while minding CDC COVID-19 guidelines, of course. If you spot the new visitor center out in the wild, please snap a photograph and share it using the hashtag #SleepingBearOnTheRoad.
Park staff worked closely with Montage Marketing Group to design, fabricate, and deliver the converted Ram Promaster 3500 van to serve as the National Lakeshore's new mobile visitor center. Montage is a metro-DC company with experience supporting federal and commercial customers with outreach and community engagement through experiential marketing.Park staff look forward to using this great tool to serve park visitors and people elsewhere in Michigan and neighboring states. It will allow staff to help new audiences learn about the park, build their excitement to perhaps visit someday, and to understand that it is all within their reach. Sleeping Bear Dunes is unlike any other area; it encompasses so much through its spectacular scenery, amazing geological and biological resources, and rich maritime, agricultural, and indigenous history. The mobile visitor center is designed to reflect that richness through both visual appeal and engagement opportunities.
Last updated: October 16, 2020