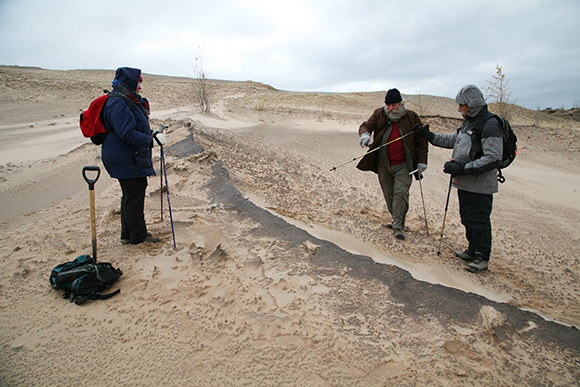 News Release Date:
October 1, 2015
Two researchers will present related talks at Sleeping Bear Dunes National Lakeshore (National Lakeshore) highlighting large-scale environmental change and its relationship to human use patterns and dune formation in our region, including new findings from their collaborative research efforts in the National Lakeshore.  
On October 8 at 9:30 a.m. at the Philip A. Hart Visitor Center Auditorium in Empire, Michigan, Dr. William A. Lovis (Michigan State University (MSU)) will present a program entitled "Between the Glaciers and the Europeans in Northwest Lower Michigan." Dr. Lovis will present an interactive journey across many thousands of years of regional environmental change, how we go about trying to understand it, and what we think we know about the people who experienced it.   
Immediately following Dr. Lovis' talk, Dr. G. William Monaghan (Indiana Geological Survey, Indiana University (IU) will present a program entitled "Cycles of Coastal Dune Formation During the Late Holocene, Lake Michigan." Dr. Monaghan will describe how dune and water level data collected recently from Sleeping Bear Dunes and Indiana Dunes National Lakeshores fits into the regional pattern. He will discuss the causes of dune activation and stabilization, especially during the late Holocene. Drivers for local-to-globally scaled dune cycles will be explored by comparing the Great Lakes, Cape Cod, and European dune episodes with long-term records of continental and global climate.
Michigan finally began to emerge from under thick ice sheets that had blanketed it for thousands of years about 14,000 years ago. Human populations eventually colonized this newly opened landscape. During their readjustment to postglacial environments, environmental and climate change exerted a strong influence on local populations, and how they went about using available resources. These environmental changes also selectively preserved different parts of the record of human use, submerging some under the Great Lakes, removing others, and preserving a few in unlikely locations. 
At least six episodes of coastal dune formation, separated by intervals of stability, have occurred since 7,000 years ago. Three intervals of dune formation occur during the late Holocene about 2,000, 1,000, and 500 years ago.  Interestingly, these are coincident with similar events at Cape Cod and coastal areas of northern Europe, which suggests recent dune formation may be hemispherically linked. 
William A. "Bill" Lovis is a Professor in the Department of Anthropology and Curator of Anthropology at the MSU Museum, Michigan State University. Dr. Lovis has his BS degree from New York University and his MA and PhD from MSU. Lovis specializes in human/environment interactions, particularly hunter-gatherer ethnography and archaeology and the forager/farmer transition, forensic archaeology, and public policy. He has conducted archaeological research in Michigan, England and Northern Europe for almost 50 years. Professor Lovis has authored or edited 12 books, monographs and journal issues, 100 journal articles and book chapters, and has numerous other contributions to the literature. 
Dr. G. William Monaghan is a Senior Scientist at the Indiana Geological Survey, Indiana University, who specializes in Quaternary geology and geoarchaeology.  He served as Associate and Interim Director of the Glenn A. Black Laboratory of Archaeology (2005-2014) and Associate Director of the Mathers Museum (2011-2013), and teaches courses in the Geological Sciences Department at IU.  With projects that span North America, Monaghan has authored over 100 publications about archaeology, geology, and geomorphology, and regularly lectures about his research around the world. 
These talks are part of a Sleeping Bear Dunes National Lakeshore speaker series called "Research Rendezvous." To celebrate the 100th anniversary of the National Park Service and highlight the value of national parks as our nation's "living laboratories," the National Lakeshore is hosting a series of public talks by park researchers through 2016. All Research Rendezvous presentations offered at the National Lakeshore are free. Upcoming "Research Rendezvous" presentations will include:
November 12, 2015: "Avian Botulism and Our Waterbirds" by Taaja Tucker (U.S. Geological Survey, Great Lakes Science Center).
December 10, 2015: "An Assessment of Forest Health at Sleeping Bear Dunes National Lakeshore" by Suzanne Sanders (National Park Service, Great Lakes Inventory and Monitoring Network). 
Check www.nps.gov/slbe/planyourvisit/events.htm for the current schedule of upcoming talks.