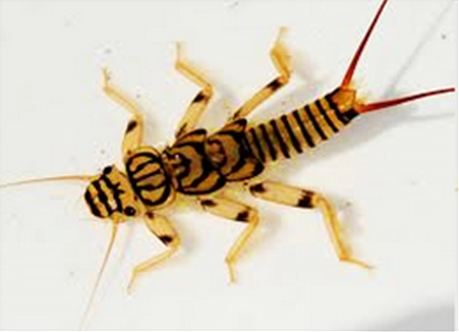 News Release Date:
August 7, 2015
How many times have you heard the words: "Look at this cool bug!"? Thousands of interesting species of aquatic insects inhabit our lakes, marshes, and streams. They feed fish, birds, reptiles, and amphibians–recycling nutrients back to land in the process. Aquatic insects mostly live in water during their immature stages and then later mostly move to land as adults. But very little is known about the insects in upper Great Lakes national parks like Sleeping Bear Dunes National Lakeshore–including what species live there and how well parks are preserving these insect communities. Researchers have recently been trying to fill these knowledge gaps.
To highlight these research efforts, Dr. R. Edward Dewalt (Illinois Natural History Survey, University of Illinois) will present a program entitled Parks as Natural Laboratories: Water Bugs of the Upper Great Lakes National Parks on August 13 at 9:30 a.m. at the Philip A. Hart Visitor Center Auditorium in Empire, Michigan. Dr. Dewalt has been sampling aquatic insects in four national parks, developing a list of the species and comparing this list to what occurs regionally outside of the parks. He will provide an image gallery of upper Great Lakes parks and lots of photos of these fascinating insects as well.
Dr. DeWalt received a PhD in Biology from the University of North Texas in 1992. He has worked the last 20 years as an aquatic insect specialist at the Illinois Natural History Survey, University of Illinois. He has named several new species of insects and has studied the ecology of mayflies, stoneflies, and caddisflies throughout the Midwest. Recent research involved reconstructing the past and predicting future distributions of aquatic insects in the Midwest and determining how aquatic insects recolonized the north after glaciation.
His talk is part of a Sleeping Bear Dunes National Lakeshore speaker series called Research Rendezvous. To celebrate the 100th anniversary of the National Park Service and highlight the value of national parks as our nation's "living laboratories," the National Lakeshore is hosting a series of public talks by park researchers through 2016. All Research Rendezvous presentations offered at the National Lakeshore are free. Upcoming Research Rendezvous presentations will include:
September 10, 2015: Sand Dune Restoration: Testing Whether Plant Diversity Matters by Dr. Kerry Crawford (University of Houston)
October 8, 2015: Between the Glaciers and the Europeans in Northwest Lower Michigan by Dr. William A. Lovis (Michigan State University)  plus a second talk entitled "Cycles of coastal dune formation during the late Holocene, Lake Michigan" by Dr. G. William Monaghan (Indiana Geological Survey, Indiana University).
November 12, 2015: Avian Botulism and Our Waterbirds by Taaja Tucker (U.S. Geological Survey, Great Lakes Science Center).
December 10, 2015: An Assessment of Forest Health at Sleeping Bear Dunes National Lakeshore by Suzanne Sanders (National Park Service, Great Lakes Inventory and Monitoring Network). 
Check our calendar for the current schedule of upcoming talks.