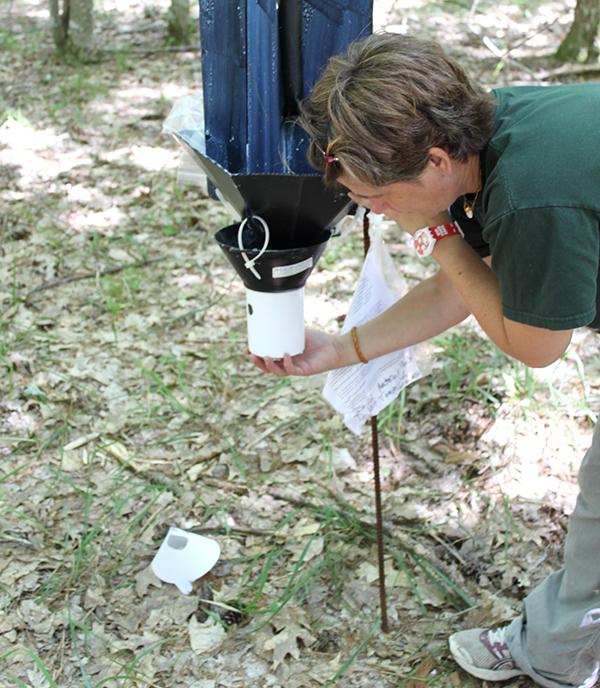 News Release Date:
July 1, 2015
Michigan is at high risk for the introduction and impacts of invasive forest pests because of its extensive forest resources and high-risk pathways for exotic pest invasion. Recent estimates have shown that exotic forest insects, particularly those that feed on forest and landscape trees, cost U.S. households and municipalities more than $2.5 billion per year. Early detection of potentially damaging exotic forest pests can facilitate efforts to eradicate, contain, or manage these invaders. 
To help better understand these pests and their native cousins, Dr. Sara Tanis (Michigan State University (MSU)) will present a program entitled "What's Under the Bark: A Look at Native and Exotic Woodborers in Michigan" on July 9 at 9:30 a.m. at the Philip A. Hart Visitor Center Auditorium in Empire, Michigan. Dr. Tanis will discuss her efforts to survey sites across Michigan that may be at a relatively high risk of exotic forest pest introductions.  
Dr. Sara Tanis is a Post-Doctoral Research Associate in the Forest Entomology Laboratory at MSU and a Visiting Assistant Professor in the Department of Biology at Kalamazoo College. She earned her Ph.D. in Forestry in 2013; during her graduate research, she assessed interactions between North American and Asian ash species and emerald ash borer. In 2013, she led the MSU Exotic Forest Insect Survey; a project that was so successful she will be leading a similar survey in 2015. Sara grew up in Custer, Michigan and has always been passionate about conserving Michigan's natural areas.  
Her talk is part of a Sleeping Bear Dunes National Lakeshore (National Lakeshore) speaker series called "Research Rendezvous." To celebrate the 100th anniversary of the National Park Service and highlight the value of national parks as our nation's "living laboratories," the National Lakeshore is hosting a series of public talks by park researchers through 2016. All Research Rendezvous presentations offered at the National Lakeshore are free. Upcoming "Research Rendezvous" presentations will include:
August 6, 2015: "Avian Botulism in Lake Michigan:  How Does it Happen?" by Dr. Harvey Bootsma (University of Wisconsin-Milwaukee)
August 13, 2015: "Parks as Natural Laboratories: Water Bugs of the Upper Great Lakes National Parks" by Dr. R. Edward Dewalt (Illinois Natural History Survey)
September 10, 2015: "Sand Dune Restoration: Testing Whether Plant Diversity Matters" by Dr. Kerry Crawford (University of Houston)
Check our calendar for the current schedule of upcoming talks.