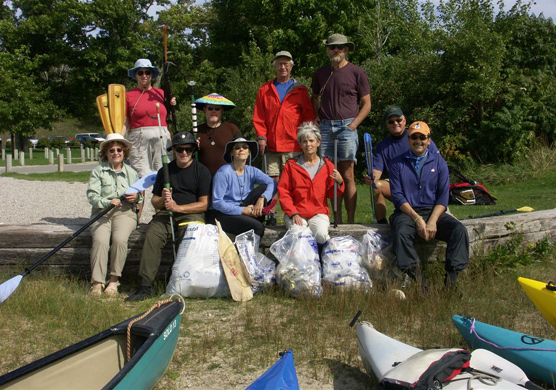 News Release Date:
September 26, 2006
Contact: Lisa Myers, 231-326-5134
Saturday, September 30, 2006 is National Public Lands Day across the country and volunteers are participating in Take Pride in America® special events which beckon "Lend a hand, it's your land."  At Sleeping Bear Dunes National Lakeshore, it is a fee-free day for everyone to enjoy the park as well.  As a token of our appreciation, volunteers will receive a coupon to use for free entrance to any public lands at a later date.  Park rangers will host two activities:  a beach cleanup in the morning and an introduction to the Adopt-a-Beach program in the afternoon, where individuals or groups do more than just clean up a particular beach; they also record data, assess wildlife habitat and test the water.  Both activities meet first at the Lakeshore Visitor Center in Empire on Highway 72 and then proceed to a designated beach.
The beach cleanup coincides with the International Coastal Cleanup, sponsored by the Ocean Conservancy, which takes place around the world every year.  Participants not only contribute to cleaner coastlines, but collect data from the debris they pick up.  That data is then compiled and analyzed by the Ocean Conservancy and locally, by the Alliance For The Great Lakes, a non-profit group concerned with the future of the Great Lakes.  "Volunteer efforts create a strong base of support for the health and vitality of our beaches, lakes and rivers," said Dusty Shultz, National Lakeshore Superintendent.  "Through this hands-on event, individuals raise awareness, educate others and really make a difference."  Also participating again this year - but not on foot - is a group of local paddlers who kayak and canoe the lower Platte River, while collecting trash along the way.  This September cleanup is becoming a fall housecleaning tradition for the Lakeshore's waterways after heavy summer visitation.
To join in the activities, be prepared for being outdoors, rain or shine.  All supplies, handouts and materials will be provided.  Meet at 9:00 a.m. at the Visitor Center in Empire for the cleanup and at 1:00 p.m. for the Adopt-a-Beach program.  For more information, call the park headquarters at (231) 326-5134.
Take Pride in America® is a national partnership program established by the Department of the Interior that aims to engage, support and recognize volunteers who work to improve our public lands. Additional information may be found at www.TakePride.gov.