Sleeping Bear Dunes Superintendent Signs Long-Awaited General Management Plan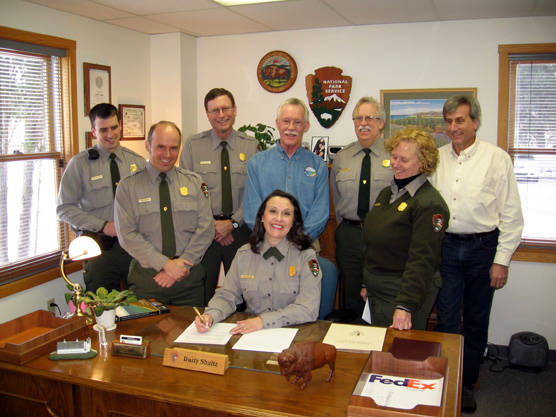 News Release Date:
January 5, 2009
Contact: Dusty Shultz or Tom Ulrich, 231-326-5134
Flanked by her senior management staff, Sleeping Bear Dunes National Lakeshore Superintendent Dusty Shultz signed the park's General Management Plan/ Wilderness Study/ Environmental Impact Statement at 11:00 a.m. on January 5, 2009 in a brief ceremony at the Lakeshore Visitor Center. (Photo)
Nearly three years in the making, the General Management Plan/Wilderness Study (GMP/WS) planning process began in early 2006. National Park Service staff members conducted an extensive public involvement and outreach program, meeting with over 2,600 people in 97 informational meetings.  The GMP/WS was crafted from the public comment received throughout the process. 
At the ceremony, Superintendent Shultz thanked everyone who took the time to attend a meeting or comment on the plan. She stated that "It was because of the input of so many who appreciate this wonderful place that we were able to develop a plan that is supported by a wide range of interests. This plan will allow us to provide a variety of recreational opportunities while continuing to preserve and protect the natural and cultural resources of Sleeping Bear Dunes National Lakeshore." 
The signing took place in the Superintendent's office in the Lakeshore Visitor Center. Because the Lakeshore was signed into law in 1970 by President Nixon, Shultz chose to sign the Record of Decision with a Nixon campaign pen dating to 1968. Also in attendance were Senator Levin's Regional Representative Harold Chase, and Friends of Sleeping Bear Dunes board member Roland Drayson.
Following the signing, Superintendent Shultz placed the Record of Decision in overnight mail for the concurrence signature of National Park Service Midwest Regional Director Ernie Quintana. With his signature, the GMP becomes the official guiding document for Lakeshore managers. General Management Plans are intended to last about twenty years or so. The Wilderness Study portion of the document will be forwarded to the U.S. Department of Interior as a proposal for consideration by Congress. It does not become official until Congress enacts a law designating wilderness at the National Lakeshore.
Copies of the plan and the Record of Decision will be available on this website and at the Sleeping Bear Dunes National Lakeshore Visitor Center. For more information please call (231) 326-5134.
Last updated: April 10, 2015