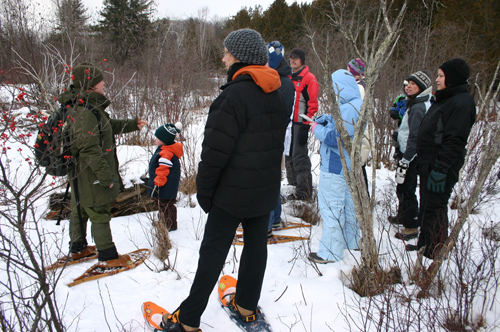 News Release Date:
February 24, 2010
The popular Saturday and Sunday afternoon snowshoe hikes at Sleeping Bear Dunes National Lakeshore will continue into March as long as snow conditions permit.  March often provides some of the best snowshoeing conditions of the winter.  If interested, meet at the Philip A. Hart Visitor Center on M-72 in Empire at 1:00 p.m. each Saturday and Sunday.  If you don't have your own snowshoes, you can reserve a free pair to borrow for use on the hike.  Later in the month, if snow conditions deteriorate, Park Rangers will offer guided nature hikes to explore the changing of the seasons.
Inside the Visitor Center, Park Rangers will first provide basic snowshoeing instructions and then participants will travel by car to the trailhead.  By exploring the site, the Park Ranger will encourage participants to learn about winter's effect on the park's unique features.  Be prepared and plan to be outside until about 3:00 p.m.  Dress in layers and wear waterproof boots to be most comfortable.
Not only is snowshoeing easy, fun, and good exercise, it is also an activity that can be enjoyed by all ages.  The Park Ranger-led hikes are mildly strenuous, yet they proceed at a leisurely pace for no more than one and a half miles.  This allows visitors an opportunity for discovery, adventure, and to look for signs of wildlife or evidence of ancient glaciers.  Some snowshoers simply want to experience and enjoy a winter wonderland, which is what you will find at Sleeping Bear Dunes National Lakeshore.
Participants need only purchase the park entrance pass or have an annual pass to join in the fun.  If you wish to borrow snowshoes or are with a group, please call 231-326-5134, extension 328, for details and to make reservations.