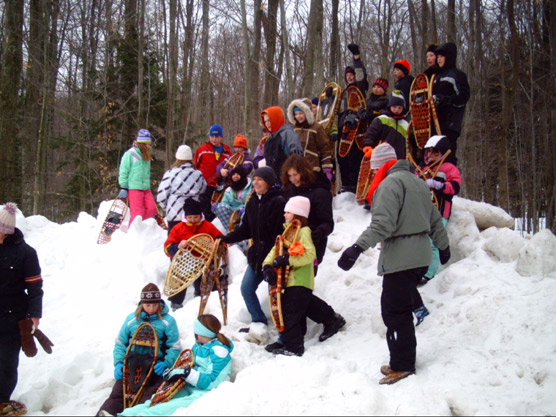 News Release Date:
March 2, 2010
Contact: Jennifer Wurts, 231-326-5134, ext. 330
Join Park Rangers for the Snow Olympics at Sleeping Bear Dunes National Lakeshore (National Lakeshore) and let your family spirit shine! Meet at the Visitor Center on M-72 in Empire on March 7 at 2:00 p.m. We will make family Olympic flags and then car caravan to the site for our own winter games with snowshoes, sleds, relays, and more! If snow deteriorates, Park Rangers will lead outdoor nature competitions appropriate for the weather that day. This event is open to all families and is part of the park's new outdoor activity club, Families United with Nature (FUN). Dress for the weather; layers and waterproof boots are recommended. Reservations are not required, but are recommended by contacting Park Ranger Jennifer Wurts at 231-326-5135, ext. 330 or by email at Jennifer_Wurts@nps.gov.
FUN was started as a joint effort between the National Lakeshore and local Girl Scout Bonnie Ricord. She is working on this particular project for her Gold Award. The club provides a fantastic opportunity for families to get outdoors together and try their hand at something new, breathe a little fresh air, and meet other families who enjoy being outside. FUN activities will be held frequently throughout the year and may include orienteering, hiking, stargazing, kayaking, and other outdoor activities that members might like to try.
Families can join the group by filling out a free membership form and bringing it to any FUN event.  Members will receive free journals to document their outdoor activities and have the opportunity to earn rewards as a family for these experiences. Joining FUN is free; however, a Sleeping Bear Dunes National Lakeshore Park Entrance Pass will be required for activities taking place within the park. An Annual Park Entrance Pass is $20 and can be purchased at the Philip A. Hart Visitor Center in Empire. Scholarships are available.
For more information, please call the National Lakeshore at 231-326-5134.