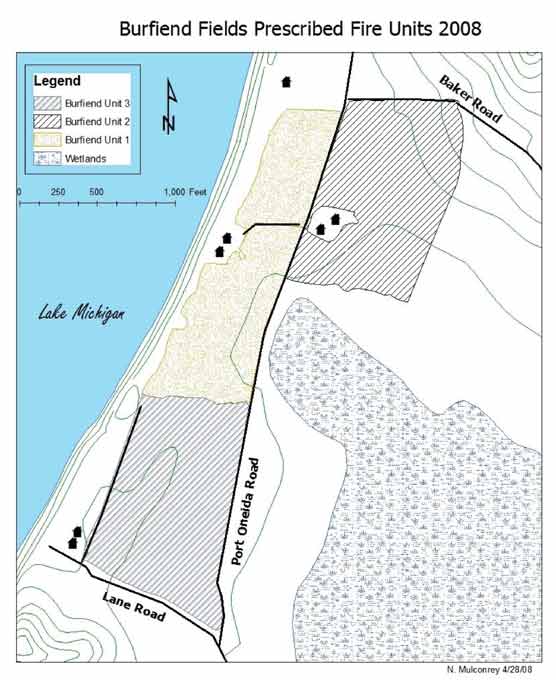 News Release Date:
May 6, 2008
Contact: Steve Yancho, 231-326-5134
Farmers have long known that fire is an excellent tool for clearing fields, and firefighters at Sleeping Bear Dunes National Lakeshore will soon be using it to maintain the open fields of the Port Oneida Rural Historic District. These former agricultural fields are managed as cultural landscapes that help tell the story of the settlers of Port Oneida. These same fields also provide habitat for a variety of birds and wildlife. To help maintain the open character of these landscapes, the Lakeshore will utilize prescribed fire at the former Burfiend farm in Port Oneida in May.
The Burfiend fields are part of the Port Oneida Rural Historic District and were first cleared over 100 years ago. Although no longer being farmed, the fields are maintained as part of the cultural landscape of the Historic District. Prescribed fire will be used as a tool to maintain the rural setting, maintain wildlife habitat and also to reduce the threat of wildfires from accumulating fuels. Fire removes the shrubs and trees that are invading the fields and reduces the accumulation of finer fuels such as grass and herbaceous plants. The Burfiend fields prescribed fire units are on either side of Port Oneida Road, north of Lane Road and south of Baker Road. The prescribed fire will be approximately 66 acres divided into 3 units (see map).
Prescribed fires can only be ignited when the wind, temperature and humidity factors - the "prescription" - allow for a fire which is not too intense, but still meets management objectives. Decisions to carry out prescribed fires are based on predicted weather conditions. Fires are typically scheduled only 24 to 48 hours in advance and if conditions change, they can be immediately cancelled. The Lakeshore will conduct this prescribed fire with crews of specially trained professionals from Sleeping Bear Dunes National Lakeshore and Indiana Dunes National Lakeshore.
While prescribed fires have proven to be a very useful tool, there is one challenging side effect: smoke. Great care is taken to minimize smoke in the area of the fire. Burns are conducted on days when atmospheric conditions will help disperse smoke. Nearby residents can help reduce smoke exposure by closing windows and doors and staying indoors when smoke is present. Although the smoke will not last long, we apologize for this inconvenience.
The Burfiend fields prescribed fire is being conducted under stringent guidelines contained within the Sleeping Bear Dunes National Lakeshore Fire Management Plan, reviewed by the public and approved in 2005. "We are looking forward to the benefits that this tool will produce on Lakeshore lands," said Dusty Shultz, Superintendent. "We now simply wait for good weather which will provide us with the proper conditions before the window for this burn closes."
Sleeping Bear Dunes National Lakeshore is one of over 390 sites saved by the American people and administered by the National Park Service so that all may experience our heritage. For more information about the park, please call 231-326-5134.