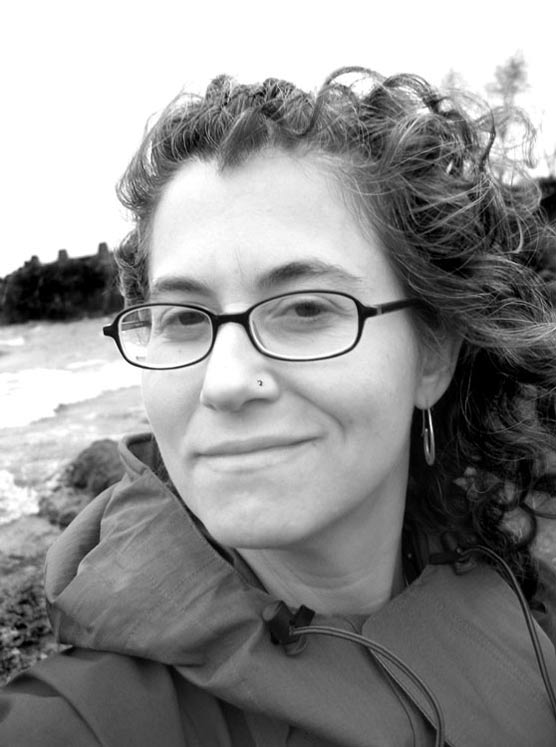 News Release Date:
October 15, 2008
Contact: Susan Sanders, 231-326-5134
Superintendent Dusty Shultz is pleased to introduce October's Artist-in-Residence (AIR) at Sleeping Bear Dunes National Lakeshore.  Kathleen Heideman, a poet from Minneapolis, Minnesota, is living in the Lakeshore for three weeks, immersing herself in the natural wonders of the dunes, forests, beaches and the varied cultural landscapes this national treasure provides.  She will present a free program for the public highlighting her work on Friday, October 24 at 2:00 p.m. in Empire at the Lakeshore's Visitor Center.
Kathleen M. Heideman is a recent fellow of the National Science Foundation's Antarctic Artists & Writers Program, where she shadowed scientists and observed their research at McMurdo Base, South Pole Station, and remote field camps.  Another recent project — The Caving Grounds — finds poetic territory in the history of mining, undermining, and subsidence on the Iron Range of Northern Michigan.  Previous artist residencies have taken her to Apostle Islands National Lakeshore, Voyageurs National Park, Devils Tower National Monument, Isle Royale National Park, and a collaborative team residency at the Anderson Center for Interdisciplinary Studies (MN). 
Heideman is the author of Explaining Pictures to a Dead Hare (Traffic Street Press).  Her work is included in 33 Minnesota Poets (Nodin Press), Illness & Grace, Terror & Transformation (Wising Up Press, 2007), and Riffing on Strings: Creative Writing Inspired by String Theory (Scriblerus Press, 2008).  Her poem "Woman in a Barrel, About To Go Over Niagara Falls" was nominated for a Pushcart.  Her essay "Infinite Apprenticeship" appears in the book Kinji Akagawa, McKnight Distinguished Artist.  "How Top-Secret Warheads Were Moved" appeared in the Spring 2008 issue of Tonopah Review.
On Friday, October 24 at 2:00 p.m., Ms. Heideman will present an informative program about her writing and residency.  This one-hour presentation is free, open to the public, and will take place in the auditorium of the Philip Hart Visitor Center on Highway 72 in Empire.  Works of art by previous Artists-in-Residence are also on display in the auditorium.  Please call 231-326-5134 for more information.
Sleeping Bear Dunes National Lakeshore has sponsored the AIR program for over a decade, and it is open, through competition, to American writers, composers, and visual artists, whose work can be influenced and enhanced by the outstanding features that are protected by the National Park Service and enjoyed by millions of visitors year after year.  In exchange for the opportunity to live in the park for a short period, Artists-in-Residence donate an original piece of art to the park, interact with visitors while conducting their craft, and offer at least one public presentation of their work in a formal setting.  There are only two sessions (September and October) available each year.  Click Here for more information about the Artist-in-Residence Program at Sleeping Bear Dunes National Lakeshore.