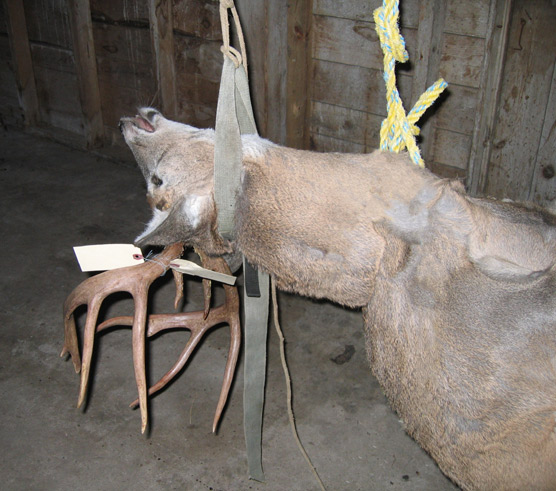 News Release Date:
September 20, 2010
Contact: Chris Johnson, 231-334-7356
Permits are available for the North Manitou Island special deer hunt within Sleeping Bear Dunes National Lakeshore. The season begins with a bow hunt on October 1 and will end after the final firearm deer hunt on November 7. Deer taken on this hunt do not count against the hunters' mainland bag limit. There is no bag limit on the number or sex of deer that can be taken on North Manitou Island. Applications for the North Manitou Island hunts are now being accepted for:
Bow/Crossbow October 1-29



Regular Firearm/Muzzleloader October 30 - November 7
The North Manitou Island deer hunt is a truly unique wilderness experience that has become a cherished tradition for many hunters. Hunting parties will practically have the island to themselves - along with some healthy, good-sized deer. A steady decrease in hunting pressure on the island over the last decade has created the potential for the deer population to rebound. The last several years have seen steadily improving hunter success rates. In 2009, a total of 26 hunters took 11 deer, including 2 ten-point, 2 eight-point, and 2 seven-point bucks. The smallest buck taken had five points. Only two doe were taken in 2009.
Since this is a wilderness hunting experience, hunters will need to be totally self-sufficient to participate, and should be prepared for inclement weather and possible boat delays. Small game hunting is allowed on the island with a valid small game license and in compliance with the 2010 Michigan Hunting and Trapping Digest. Trapping is prohibited in all areas of the National Lakeshore, including North Manitou Island.
Transportation to the island is available through Manitou Island Transit. For reservations, please call 231-256-9061. Manitou Island Transit currently has plans for a trip to the island on October 30, with a pickup on November 6. Since there are no areas of safe harbor at the island, please arrange to be dropped off if you are planning on using a private boat for access.
There is a $25.00 application fee for the hunt. A current 2010 Michigan deer hunting license is required, but the state tags do not need to be used for deer harvested on North Manitou Island. The National Park Service provides a specific North Manitou Island tag for each deer taken.
Information about the hunts, including the permit application form, please Click Here. Applications are also available for pickup at park headquarters, or by calling the main office at 231-326-5134.