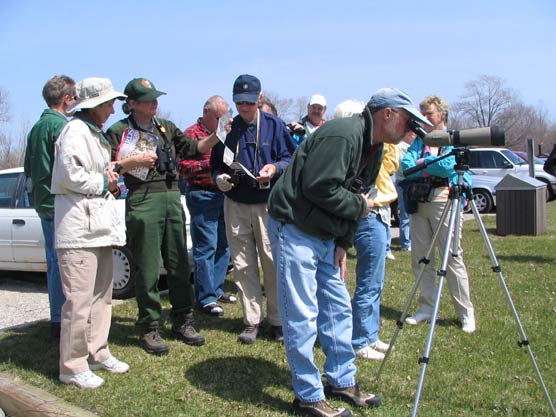 News Release Date:
April 30, 2007
Contact: Lisa Myers, 231-326-5134
Would you like to visit a beaver pond, smell spring wildflowers, search for morels, or identify migrating birds?  Sleeping Bear Dunes National Lakeshore is the place to do all that and more.  Spring is an excellent time to hike and park rangers are looking forward to sharing some of their favorite places in the National Lakeshore with you during May "Saturdays at the Lakeshore."
Every Saturday afternoon, a Park Ranger will meet you at the Visitor Center in Empire on M-72 at 1:00 p.m. and then drive a short distance to where the walk will begin.  Every week, a different topic and location will be featured. 
May 5 - Mushrooms for Beginners:  Learn how to tell a morel from a false morel and how to identify several easy spring mushrooms.  The ranger will also explain the life of a mushroom and provide some tips on where to find your favorite spring variety.


May 12 - Returning Birds: Celebrate International Migratory Bird Day by joining a ranger to welcome back several species of migratory birds.  You will also learn about their winter adventures in far off lands and how climate change might affect them.  This is a great opportunity for beginning birders.  Binoculars provided.


May 19 - A Flurry of Wild Flowers:  Few places on earth have such an abundance of wildflowers as the spring hardwood forest of Northwest Michigan.  Join a ranger to marvel at this annual spring display of native plants as you hike through one of the best wildflower habitats in the region.

 
May 26 - Hike to a Beaver Lodge:  No north woods animal changes the environment more than the beaver.  Nor has any animal played a greater role in the history of the region.  Hike to a beaver pond and see a dam, lodge, canals, and tunnels.  Learn more about these fascinating animals while you see their logging operations.
All hikes are free, suitable for all ages and end by 3:00 p.m.  No reservations are needed; however anyone wishing to use assisted listening devices that are provided by the park are asked to arrive early to set up the equipment.  All participants must display a park entrance pass on their vehicle dashboard when in the Lakeshore ($10/vehicle valid for seven days or $20/vehicle for an entire year).  For more information about the schedule or other Sleeping Bear Dunes National Lakeshore activities, please call the Visitor Center at 231-326-5134.