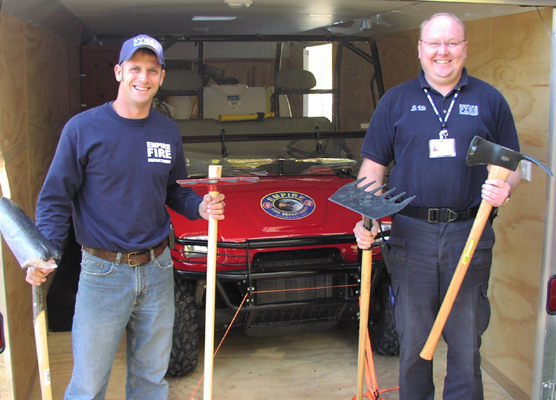 News Release Date:
October 30, 2006
Contact: Steve Yancho, 231-326-5134
The National Park Service (NPS) at Sleeping Bear Dunes National Lakeshore, recently provided funding to two local volunteer fire departments through the Rural Fire Assistance program. The Empire and Solon-Centerville Township Fire and Rescue Volunteer Fire Departments (VFD) both received funding through this program. The Empire VFD received $6,921 to purchase firefighter gear, hoses, radios and training. The Solon-Centerville VFD received $1,755 to purchase training and radios. 
In 2001, Congress established the Rural Fire Assistance program to allocate federal funding to local fire departments that have Department of the Interior lands in their response area. The program is designed to increase firefighter safety and enhance the wildland fire protection capabilities of those rural VFDs.  The funding can only be used for training, equipment, and fire prevention activities. Prior to this program, the NPS had no authority to provide financial assistance to these adjacent VFDs.
"To qualify for assistance, a VFD has to meet certain requirements," explained Chief of Natural Resources Steve Yancho. "The VFD must have a cooperative agreement with the NPS and must serve a community with a population of less than 10,000.  They must share a minimum of 10% of the cost, but that can include in-kind services." Yancho noted that qualifying VFDs need only complete a simple application form to compete for the grants. "In 2006, both Empire and Solon-Centerville met the requirements and submitted successful applications. Since the program started, all five adjacent VFDs with whom we have agreements have received funding, including Solon-Centerville, Glen Arbor, Empire, Homestead, and Frankfort."
Although the Lakeshore also maintains wildland fire response capability, the local VFDs respond to wildland fires in the park, regardless of whether they started inside or outside the boundary.  Superintendent Dusty Shultz emphasized, "This program offers Sleeping Bear Dunes National Lakeshore a wonderful opportunity to continue our cooperative working relationship with local VFDs by providing them with equipment and training that they need.  The National Park Service is thankful that these VFDs play such an important role in the protection of public lands."