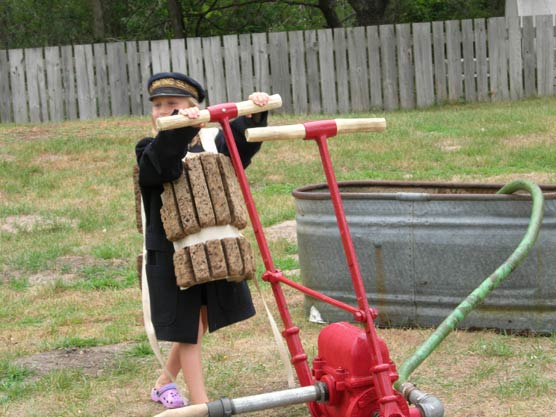 News Release Date:
May 8, 2008
Contact: Lisa Myers, 231-326-5134
Elementary school students are invited to explore an historic Great Lakes village, complete with a blacksmith shop, a general store, and a U.S. Life-Saving Service Station.  Sleeping Bear Dunes National Lakeshore will present two days of special historical demonstrations and tours on May 29 and 30, 2008 at the restored Glen Haven Village.  "Glen Haven Days" is designed to supplement classroom learning and bring history to life by providing students with many new, first-hand experiences relating to Michigan's maritime heritage.  Students will watch a blacksmith at the forge, compare and contrast historic boats, visit a general store, learn how ships and engines were powered by steam,  participate in a shipwreck rescue, and much more.
Glen Haven is considered one of the best surviving examples of an early Great Lakes steamship village in the region.  A large dock, fuel, food, and other services were provided to ships traveling the Great Lakes between Chicago and New York.  Today, the National Park Service preserves and interprets the Blacksmith Shop, General Store, Sleeping Bear Inn, Glen Haven Cannery and the Sleeping Bear Point Life-Saving Service Station.  Volunteers staff some of the facilities during the summer on a daily basis.  Several of them will assist Park Rangers for this special event. 
During Glen Haven Days, students will rotate through five different activities in the village and then go to the Maritime Museum for the "Heroes of the Storm" demonstration at 11:00 a.m. or 1:30 p.m. That is where they will learn about shipwrecks and early rescue techniques performed by the U.S. Life-Saving Service, and later, the U.S. Coast Guard.  Rangers will also demonstrate how to fire the Lyle Gun (the only cannon ever designed to save lives) following the "Heroes" programs at 11:30 a.m. and 2:00 p.m. The gun would send a 20-pound projectile, with a rope attached, over a ship in distress so that victims could be carried ashore using the line to save them.  Park Rangers fire the cannon once a week during the summer, so this will be the first time they ignite the black powder for a group of students in the spring.
Interested educators will receive background material about each site and activity so that their students may continue learning back in the classroom.  If you would like to participate in Glen Haven Days, please call (231) 326-5134 ext. 333 for more information and to make a reservation.  All programs are free but a park entrance pass is required whenever you are in the Lakeshore.  Please ask about an educational fee waiver, too.
Sleeping Bear Dunes National Lakeshore is one of over 390 sites saved by the American people and administered by the National Park Service so that all may experience our heritage.  Rangers give tours and guided hikes for school groups throughout the year.  For more information, call 231-326-5134.