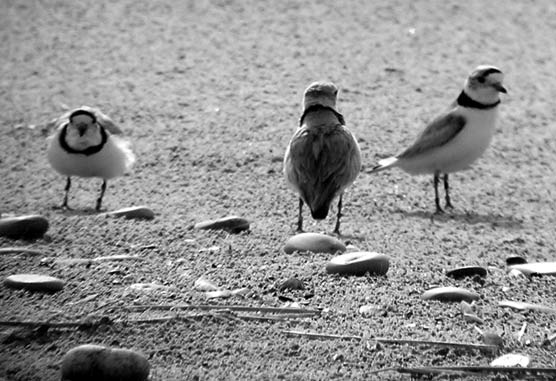 News Release Date:
May 27, 2008
Contact: Lisa Myers, 231-326-5134
The wildflowers are out, the birds are singing, and the weather is just right for exploring Sleeping Bear Dunes National Lakeshore. So put down the garden rake, get off the lawn mower and treat yourself to a hike with a National Park Service Ranger. "Saturdays at the Lakeshore" begin at 1:00 p.m. at the Visitor Center in Empire on M-72 where you meet a Park Ranger for an introduction to that day's topic. After the introduction, everyone drives a short distance to where the adventure begins. The program/hike lasts until approximately 3:00 p.m. Each week, a different topic and location in the National Lakeshore will be featured.
Park Rangers have planned activities that take advantage of the season. For example, June is the best time to see the rare Piping Plover, an endangered shorebird that nests on the beach, and it is the only time to experience the variety of wildflowers that grow on the sand dunes.
June 7 - Piping Plovers: The Little Birds that Could! Sleeping Bear Dunes National Lakeshore has the largest population of nesting plovers in the Great Lakes region. See this rare bird and observe its nesting activities. Discover why the Piping Plover is threatened with extinction, and what staff and volunteers are doing to prevent it. This is the best time of the year to see several plovers in action. A short walk is all that is required. Some spotting scopes and binoculars will be provided, but bring your own if you have them.


June 14 - Mission Possible: Natives versus Non-Natives - With no enemies to keep them in check, an invasion of non-native plants and animals are crowding out our native species. Learn what is being done here at Sleeping Bear Dunes and why we should care about the survival of our native species.


June 21 - Flowers in the Sand: Dunes are not always just barren places with scruffy grass. They can also have some of the region's most elaborate displays of showy wildflowers, if you know when and where to look. Join Ranger Joanne, our wildflower expert, for an easy hike on the dunes to view and identify wildflowers that call Michigan's sand dunes home.


June 28 - Beneficial Bugs: Sure they bite and sting and get inside your shirt, but bugs do lots of good things, too. Explore the world of bugs and learn how they help the wildflowers, our food crops, and our forest. 
"Saturdays at the Lakeshore" are free and are suitable for all ages. No reservations are needed, and participants need only purchase the park entrance pass to join in the fun ($10/vehicle valid for seven days or $20/vehicle for an entire year). For more information about the schedule or other Sleeping Bear Dunes National Lakeshore activities, please call the Visitor Center at 231-326-5134.