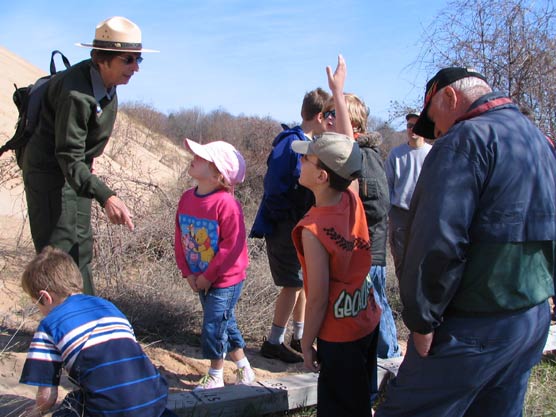 News Release Date:
May 29, 2007
Contact: Lisa Myers, 231-326-5134
National Park Service (NPS) Rangers at Sleeping Bear Dunes National Lakeshore announce a bonus for June's "Saturdays at the Lakeshore." This month there are five Saturdays and we have invited some special guests to lead some of the programs.  Every Saturday at 1:00 p.m., meet a Park Ranger at the Visitor Center in Empire on M-72 for an introduction to that day's topic.  Then, everyone drives a short distance to where the adventure begins.  Each week, a different topic and location will be featured.
This month, Park Rangers Joanne, Marie and Peggy will be joined by butterfly expert, Duke Eisner, and popular TV weatherman, Dave Barrons.  This is your opportunity to have fun while learning more about Northern Michigan's environment and the National Lakeshore's special qualities.
June 2 - Hike with the Butterfly Master - Everything you have always wanted to know about our local butterflies will be answered by guest speaker Duke Eisner, MSU Extension. Come and explore the fascinating world of butterflies with a true expert.  People of all ages will be amazed.
June 9 - The World of Frogs - What would spring be without the sound of frogs?  Why are they singing and why are they disappearing all around the world?  What might they be trying to tell us?  Learn to identify several local varieties by sight and sound.  This is a great outdoor adventure for the whole family.
June 16 - Piping Plovers:  The little birds that could - Sleeping Bear Dunes National Lakeshore has the largest population of nesting plovers in the Great Lakes region.  See this rare bird and observe its nesting activities.  Discover why the piping plover is threatened with extinction and what Sleeping Bear Dunes staff and volunteers are doing to prevent it.  This is the best time of the year to see plovers in action.  A short walk is all that is required.
June 23 - Flowers in the Sand - Dunes are not always just barren places with scruffy grass.  They can also have some of the region's most elaborate displays of showy wildflowers, if you know when and where to look.  Join Ranger Joanne, our wildflower expert, for an easy hike on the dunes to view and identify wildflowers that call Michigan's sand dunes home.  
 June 30 - The Weather Machine Shifts Gears - Local TV weatherman and naturalist Dave Barrons will present an open forum discussion about climate change and related issues.  Dave will bring his years of experience as a meteorologist and environmental reporter to this critical topic.  The program will be presented entirely inside (unless the weather is bad!) and geared for adults and older students.  Bring your questions and observations.
"Saturdays at the Lakeshore" are free, suitable for all ages (except where noted) and last until 3:00 p.m. No reservations are needed, and participants need only purchase the park entrance pass to join in the fun ($10/vehicle valid for seven days or $20/vehicle for an entire year). Since the June 30 program is in the Visitor Center in Empire, no park pass is required. For more information about the schedule or other Sleeping Bear Dunes National Lakeshore activities, please call the Visitor Center at 231-326-5134.