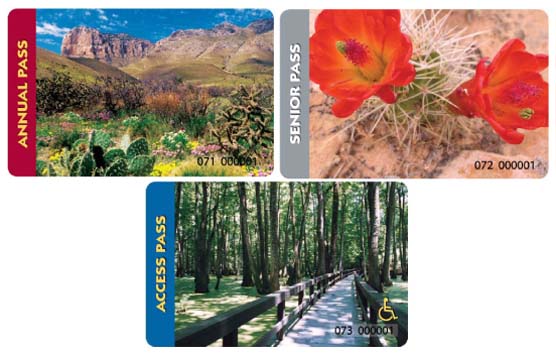 News Release Date:
December 18, 2006
Contact: Lisa Myers, 231-326-5134
A new interagency recreation pass that will allow visitors access to several types of national public lands will be offered for sale at Sleeping Bear Dunes National Lakeshore beginning January 2, 2007.  The new pass combines the benefits of existing recreation passes from five federal agencies – the U.S. Department of Interior's National Park Service, Fish and Wildlife Service, Bureau of Land Management, the Bureau of Reclamation, and the Department of Agriculture's U.S. Forest Service - into one comprehensive pass, the "Interagency National Parks and Federal Recreational Lands Pass."
The interagency pass offers access to locations such as the Lakeshore and other federal lands that currently have entrance or standard amenity fees.  It replaces the Golden Eagle, Golden Age, and the Golden Access Passports as well as the National Parks Pass.  Existing passes will remain valid until expired, and all Golden Age and Golden Access Passports will retain their lifetime status unless lost or stolen.  Site specific passes, such as the Lakeshore's Annual Pass, will still be available.
The four passes in the new interagency program are:
1)  A new interagency annual pass costing $80 for visitors to multiple Federal sites.  The pass offers unlimited coverage of entrance and standard amenity recreation fees for one year from the month of purchase;
2)  A lifetime senior pass (onetime $10 fee) for U.S. citizens 62 years of age or over;
3)  A free lifetime pass for citizens with permanent disabilities; and
4)  A new, free annual volunteer pass for volunteers acquiring 500 hours of service on a cumulative basis.
The new passes are good at vehicle entry sites (i.e., Sleeping Bear Dunes National Lakeshore, Grand Canyon NP, etc.) for all occupants in a noncommercial vehicle.  At walk-up sites, the pass is valid for the holder and three adults.  There is still no charge for children under 16.  The passes are a great deal for families who like to travel to federal recreation sites across the country.
Sales of the new interagency pass will begin on January 1, 2007, and will be available locally at the Lakeshore Visitor Center in Empire, at government internet sites, and at other federal recreation land management facilities.  "This new pass provides more access to federal lands than ever and 80% of the revenue from the passes sold at the Lakeshore will stay right here," said Dusty Shultz, Superintendent. 
You can still purchase existing Golden Eagle ($65) and National Parks Passes ($50) until December 31, 2006.  They make great holiday gifts and will be valid through December 31, 2007.  The Sleeping Bear Dunes National Lakeshore annual passes will remain available for $20.00.  For more information about federal recreation lands and current passes, visit www.recreation.gov. 
For additional information about Sleeping Bear Dunes National Lakeshore, please call the park at 231-326-5134.