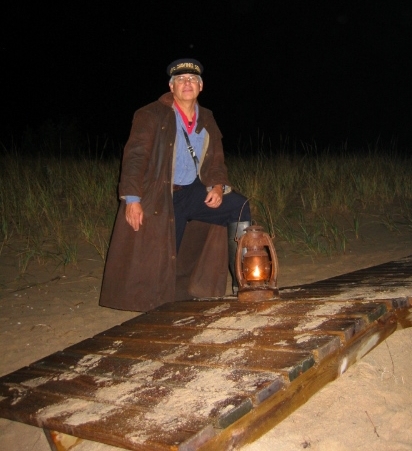 News Release Date:
October 4, 2006
Contact: Lisa Myers, 231-326-5134
What was it like to work for the U.S. Life-Saving Service (LSS) during the fall, which was traditionally known as "shipwreck season" on the Great Lakes? One hundred years ago, LSS surfmen set out each night to hike the shoreline in search of ships in distress. This fall, the public is invited to relive history and join National Park Service (NPS) rangers and Volunteers-in-Park (VIPs) to recreate a traditional evening beach patrol. There will be only two chances to participate in this special event; meet at the Sleeping Bear Point Coast Guard Station/Maritime Museum in Glen Haven at 7:30 p.m. on Saturday, October 14 or 21, 2006.
Before radio communications were used at sea, ships could not call for help. Spotting a vessel in distress from the shore was the only way LSS crews knew that their assistance was needed. The beach patrol was one essential part of a surfman's duties. On pleasant evenings, a wife or girlfriend might accompany her surfman on part of the patrol. However, with the chill of fall, the surfman was often the lone figure on a beach. When the patrols returned to the station, they woke the next two men who donned their foul weather gear and set off in opposite directions along the beach.
Following a more in-depth explanation of the beach patrol process and some shipwreck stories in the Museum, the public will accompany rangers, dressed as surfmen, for a lantern-lit hike along the beach. Wind and rain would only make the patrol more authentic, so dress appropriately and be prepared for any type of weather! In the past, participants have been greeted with unseasonably mild temperatures, while other nights were filled with strong winds, rain and hail. Everyone should also carry a flashlight for safety. Hikers may turn back at any time during the one and a half mile roundtrip patrol and head back to the Museum. There, they will be welcomed by VIPs and find shelter, warmth and another chance to explore the museum exhibits.
Sleeping Bear Dunes National Lakeshore preserves three Life-Saving Service stations, more than any other national or state park in the country. The Sleeping Bear Point Life-Saving Service Station/Maritime Museum is located one half mile west of the Cannery at Glen Haven. The other two stations are on North and South Manitou Islands and serve as ranger stations for Lakeshore staff.
For additional information about the historic beach patrols and other Lakeshore programs, please call park headquarters at 231-326-5134.