Volunteers Make Great American Cleanup a Success at Sleeping Bear Dunes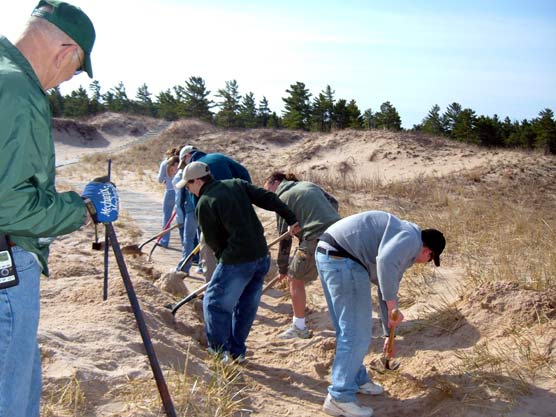 News Release Date:
May 18, 2007
Contact: Lisa Myers, 231-326-5134
Every year volunteers across the nation join together for the Great American Cleanup/Keep America Beautiful Campaign, collecting millions of pounds of litter and debris, planting trees and flowers, and cleaning thousands of miles of rivers and lakeshores.  The campaign kicked off on Earth Day, April 24th and is scheduled to last through May 31, 2007.  "At Sleeping Bear Dunes National Lakeshore, volunteers and corporate sponsors are doing their part to keep America beautiful and make this year's campaign a total success," said Dusty Shultz, Lakeshore Superintendent.
On Earth Day, students from Benzie Central High School volunteered for the eleventh consecutive year at the Platte River District area of Sleeping Bear Dunes National Lakeshore.  A group of 42 enthusiastic ninth grade Environmental and Earth Science students along with their teachers Jerry Block and Kevin Kinnan, worked along side Park Ranger Jim DalSasso to kick off the campaign.  By mid-afternoon small groups of students and their adult volunteer leaders had completed projects including removal of old livestock fence materials, beach clean up, clean up at old dump sites, removal of a culvert from the backcountry, and planting of 156 white pine seedlings in a restoration area.
Representatives from some of the corporate sponsors joined the group at their picnic lunch and then participated in planting the trees.  Williams Honda representative Charlie Pagel, Waste Management representative Jerome Snyder, and Pepsi Bottling Group representative Jake Roop each worked with students to dig holes and plant the white pine seedlings.  A new Honda hybrid vehicle was on display and Pagel described the car's environmentally responsible technology as the students listened intently and asked great questions.
On April 28, a group of 43 Boy Scouts from Troop 147 in Holland, Michigan came back for the fifth consecutive year and helped restore a wetland site by removing a culvert on Loon Lake, cleaning up two former dump sites, removing old fencing and invasive scotch pines, and planting 100 white pine seedlings.  "A group of 80 fourth, fifth and sixth graders from Grand Traverse Academy are coming to volunteer too," said DalSasso. 
According to DalSasso, last year volunteers nationwide picked up more than 228 million pounds of litter and debris, planted over 5.5 million trees and cleaned more than 6,000 miles of rivers and lakeshore shorelines.  "Thanks to the hard work of the volunteers, this year will be the most successful cleanup ever at the Sleeping Bear Dunes," said Shultz.  "The Great American Cleanup/Keep America Beautiful Campaign connects children with nature and teaches them to care for the environment," said Shultz.  "Thank you for making this year a complete success!"  For more information call park headquarters at (231) 326-5134.
Last updated: April 10, 2015