Sleeping Bear Dunes National Lakeshore Announces Release of Latest Planning Information
Date:
March 27, 2007
Contact:
Bruce Huffman or Tom Ulrich, 231-326-5134
Sleeping Bear Dunes National Lakeshore Superintendent Dusty Shultz announced today that Newsletter #4 containing the latest information on the new General Management Plan/Wilderness Study (GMP/WS) is being mailed this week to 2,400 interested parties.
Newsletter #4 includes detailed maps and narrative text that describe three Preliminary Action Alternatives and the No-Action Alternative, which represents the way the Lakeshore is currently managed. "The Preliminary Alternatives were developed using the range of public comments we received thus far. It is important to remember that the Preliminary Alternatives presented in Newsletter #4 are a palette of ideas representing a wide range of possible management directions for the National Lakeshore over the next 20 plus years," said Shultz.
The public comment period for Newsletter #4 will be open until May 14, 2007. There are numerous ways for the public to provide their comments on this important phase of the planning process including sending comments through the mail, submitting comments on-line through the National Park Service Planning website link, completing a fillable comment form which is available on the website, and attending and providing comments at the public meetings scheduled for early May 2007. Comments received by May 14, 2007 will be most helpful in refining and developing a Preferred Alternative.
Superintendent Shultz has invited all interested parties to attend any of three identical public meetings on May 1, 2, and 3, 2007 as follows: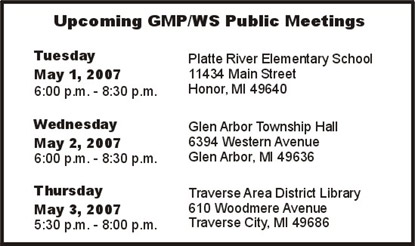 "With the publication of Newsletter #4, we have moved into the next phase of the planning process - deciding which elements of these four Preliminary Alternatives (or any new elements), should be included in the Preferred Alternative. Your input will continue to be an important component of our planning effort for a new GMP/WS. Our goal remains to build a Preferred Alternative that will provide a variety of recreational opportunities while continuing to preserve and protect the natural and cultural resources of Sleeping Bear Dunes National Lakeshore. As always, we look forward to hearing from you and encourage you to also visit our website for additional information," said Shultz.
For your convenience, comments may be submitted on-line using the GMP/WS link on our website or write to us at:
Superintendent
Sleeping Bear Dunes National Lakeshore
9922 Front Street
Empire, Michigan 49630-9797
For more information please call 231-326-5134.