Date:
November 30, 2009
Contact:
Jennifer Wurts, 231-326-5134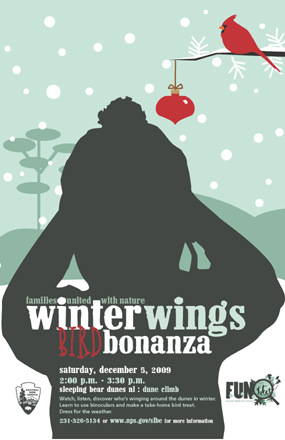 Want to be a FUN family? On Saturday, December 5, the National Park Service invites you to a "Winter Wings Bird Bonanza;" the third meeting of the Families United with Nature (FUN) outdoor activity club. Take your family out to discover who is winging around Sleeping Bear Dunes National Lakeshore in winter. Learn to use binoculars, tune your ears to hear secret bird messages, and go on a scavenger hunt to flush out our hidden feathered friends. You will also have an opportunity to make a take-home treat that will attract birds into your own backyard. Dress appropriately for the weather; layering is recommended. Meet Interpretive Park Ranger Jennifer Wurts at 2:00 p.m. at the base of the Dune Climb, just four miles north of Empire on M-109.
FUN is an outdoor activity club for families that was established in September 2009 as a joint effort between Sleeping Bear Dunes National Lakeshore and local Girl Scout, Bonnie Ricord. She is working on this project for her Gold Award. The club provides a fantastic opportunity for intergenerational groups (parents, children, grandparents, cousins, Big Brothers/Big Sisters) to get outdoors together and try their hand at something new, breathe a little fresh air, and meet other families who want to connect more with nature. "National parks throughout the country are confronting the issue of young people spending more time indoors, 'plugged in,' and less time outdoors exploring nature," explained Lisa Myers, Chief of Interpretation and Visitor Services, at Sleeping Bear Dunes National Lakeshore. "We started this club in hopes of engaging the young and old to connect with nature." FUN activities will be held frequently throughout the year and may include orienteering, hiking, stargazing, kayaking, and other outdoor activities that could be of interest to members.
Families may join the club at any event or by filling out a membership form and sending it to the National Lakeshore. At their first event, all members receive free nature journals to document their outdoor activities and time spent in nature. There are opportunities for families to earn rewards for their participation and commitment to connecting with nature. Joining FUN is free; however, you will need a Sleeping Bear Dunes National Lakeshore Entrance Pass for your vehicle. An Annual Entrance Pass is $20, covers everyone in the vehicle, and can be purchased at the Philip A. Hart Visitor Center in Empire. Scholarships are available, too, so that all may participate. Grandparents who are 62 or older may buy a lifetime pass for just $10!
For more information, please call Sleeping Bear Dunes National Lakeshore at 231-326-5134. Please note that assisted listening devices are also available for the hearing impaired. Please call ahead or inquire at the front desk of the Visitor Center so the Park Ranger can gather the necessary equipment.