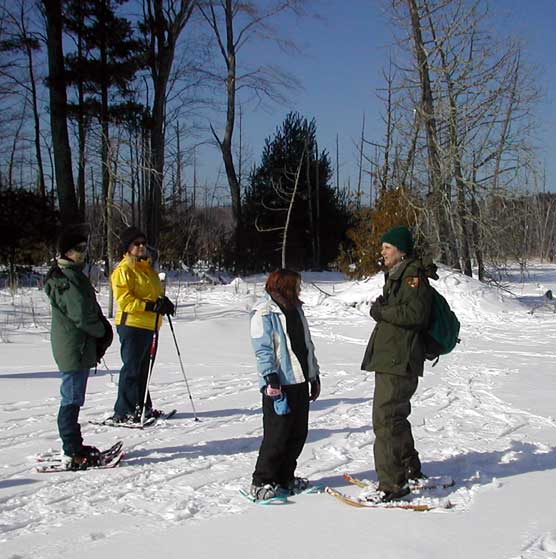 News Release Date:
January 9, 2009
Contact: Lisa Myers, 231-326-5134
This year's winter wonderland is just too wonderful to pass up a chance to explore Sleeping Bear Dunes National Lakeshore with a National Park Ranger.  Excellent snow conditions have inspired the Park to schedule additional snowshoe hikes on Sunday, January 18th and Sunday, January 25th.  These are in addition to the snowshoe walks offered every Saturday through the end of February or later, if conditions permit.  Each hike will start by meeting at the Philip Hart Visitor Center (VC) in Empire at 1:00 p.m.  If you don't have your own snowshoes, you may use a pair free of charge by calling ahead for a reservation.  Please note these popular walks have been using up all of our "loaner" snowshoes, so get your reservation in early!
Inside the Visitor Center, a Park Ranger will distribute the "loaner" snowshoes and provide basic snowshoeing instructions.  Then the ranger will lead everyone in their own cars to the trailhead of the day.  On the trail, the Ranger will help participants identify flora and fauna, learn more about the Lakeshore's unique features, and witness the effects winter has on both.  Visitors should arrive prepared to be outside for about an hour and a half.  To be most comfortable and warm, dress in layers and wear waterproof boots.  The program will conclude by 3:00 p.m. at the trailhead.  Note that the VC closes at 4:00 p.m., should you want or need to go back after the walk.
Snowshoeing is easy, fun, and good exercise!  If you can walk, then you can snowshoe, so it is also an activity that can be enjoyed by all ages.  The ranger-led hikes are mildly strenuous, yet they proceed at a leisurely pace for only 0.5 – 1.5 miles.  This allows visitors an opportunity for discovery, adventure, and to look for signs of wildlife or evidence of ancient glaciers.  Some snowshoers simply want to experience and enjoy a winter wonderland, and that is what you will find at the National Lakeshore.  Be aware that Rangers usually select a different location each week, so experiences vary.
The walk and snowshoe loan are free.  However, participants need to purchase a park entrance pass or display an annual pass in their vehicle to join in the fun.  Park passes cost $10/vehicle and are good for seven days.  The annual pass costs $20 and is valid for a year from the month of purchase.  Teachers and other group leaders may also schedule a ranger to take their group snowshoeing this winter.  Please call 231-326-5134, extension 328, for details and to make reservations.  For more information about Sleeping Bear Dunes National Lakeshore, call the park at 231-326-5134.