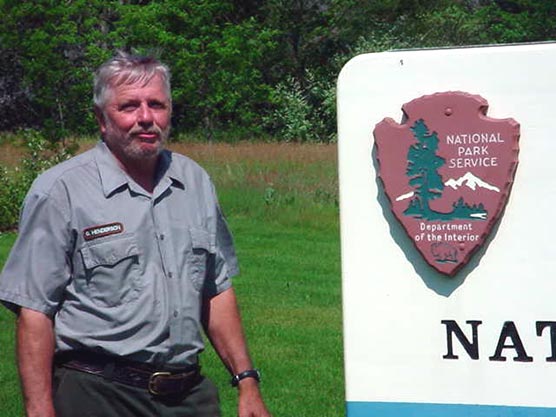 News Release Date:
June 26, 2008
Contact: Tom Ulrich, 231-326-5134
Engineering Equipment Operator George Henderson is the 2007 recipient of the National Park Service Director's Award for Excellence in Natural Resource Stewardship through Maintenance.
Superintendent Dusty Shultz said that Henderson was nominated for the award by his co-workers, noting, "George has long been recognized within the Lakeshore for his skills using heavy equipment for natural resource restoration. We are proud of George and the national recognition that this award gives to him." "George has a strong commitment to the restoration and maintenance of our country's natural heritage," said Bert Frost, NPS Associate Director of Natural Resource Stewardship and Science. "His projects epitomize the excellence of resource management work taking place throughout the National Park Service." 
Henderson will fly to the NPS Natural Resources Program Center in Fort Collins, Colorado for a July 8 award ceremony. He will also receive a cash award and a bronze bison sculpture at the ceremony. Until he won the Midwest Region award on his way to the National honor, Henderson did not know his co-workers had prepared a nomination. When asked how he felt about receiving the national award, Henderson said "All this is just a little too much for Uncle George. I'll go, but I just hope traffic isn't bad out of the Denver airport." 
Henderson grew up in St. Ignace, Michigan, served in Vietnam, and has worked for the National Park Service at Sleeping Bear Dunes National Lakeshore for over thirty years. Superintendent Shultz stated, "There is very little in this park that George hasn't had a hand in supporting in some way. He is truly deserving of this award."
An excerpt from George's nomination, as well as those of the other national winners, as follows:
Director's Excellence in Natural Resource Stewardship through Maintenance
Winner: George Henderson – Engineering Equipment Operator, Sleeping Bear Dunes National Lakeshore
For over 25 years, George Henderson has provided leadership in Sleeping Bear Dunes National Lakeshore's restoration efforts. He has identified machinery needs, restoration methodology, and individual site requirements, as well as worked through environmental compliance. Henderson continuously demonstrates his awareness and understanding of park natural resources through his ability to identify and remove non-native materials from impacted sites, while avoiding damage to native vegetation with his excavator.
Director's Award for Superintendent of the Year for Natural Resource Stewardship
Winner: Vaughn Baker – Superintendent, Rocky Mountain National Park
Vaughn Baker's five-year tenure as Rocky Mountain National Park Superintendent exemplifies conservation leadership and adaptive management. In 2007, his leadership resulted in three landmark efforts: Rocky Mountain's Nitrogen Deposition Reduction Plan, the park's Elk and Vegetation Management Plan/EIS, and the NPS's Grand Ditch breach case, which has resulted in the largest natural resource damages payment in park service history.
Director's Award for Natural Resource Research
Winner: Dr. Raymond M. Sauvajot – Chief, Division of Planning, Science, and Resource Management, Santa Monica Mountains National Recreation Area
Dr. Sauvajot has successfully developed and led a major research program to assess the impacts of urbanization and fragmentation on the natural resources of parks in urban areas. He found opportunities for financial and in-kind partnerships with multiple agencies and jurisdictions involved in the Santa Monica Mountains and drew on the rich academic and volunteer pool in urbanized Southern California. The resulting science-based knowledge continues to be directly incorporated into local and regional management actions and critical land use decisions at every level, improving the ability of the park and its cooperators to preserve and protect natural resources.
Director's Award for Natural Resource Management
Winner: Michele Girard – Ecologist, Southern Arizona Group
Michele Girard's broad knowledge and wide range of skills help her fill existing gaps in numerous small park resource management capabilities by identifying park needs, developing, coordinating, and planning projects, preparing compliance documents, designing integrated pest management (IPM) activities, supervising resource staffs, and facilitating contracts. In 2007, she provided leadership in addressing border issues including the impacts of illegal immigration paths, the new pedestrian fence, and installation of buried fiber-optic lines in border parks. She helped several parks establish and fund projects to remove exotic species and to reestablish native species.
Professional Excellence in Natural Resources Award
Winner: Dr. Margaret Wild – Wildlife Management and Health Program Manager, WASO Biological Resources Management Division
Dr. Wild has led the effort to understand, monitor and analyze, and address existing and emerging wildlife disease issues that affect park resources nationwide. She led the successful Service-wide wildlife disease program that provides a long-term foundation for improving or maintaining wildlife health. She developed the quick response, mobile Wildlife Health Team of wildlife biologists and veterinarians.
Trish Patterson Student Conservation Association Award for Natural Resource Management in a Small Park
Winner: Scott Stonum – Chief of Resource Management, Lewis and Clark National Historical Park
Scott Stonum led a restoration project from start-to-finish that more than doubled the amount of tidal marsh along the lower Lewis and Clark River. The project reconnects 54 acres of diked pasture to the river and allows the slow conversion to native riparian, willow and Sitka spruce swamp communities. Stonum helped acquire the property, obtained more than $700,000 to make the project happen, secured state and county support and permits, and won the participation of key partners and landholders. He built links between resources management and the park's education program, raising community awareness about the watershed.