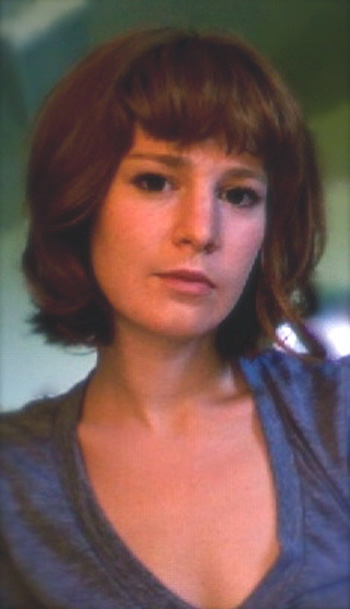 News Release Date:
September 15, 2008
Contact: Susan Sanders, 231-326-5134
Superintendent Dusty Shultz is pleased to introduce 2008's September Artist-in-Residence (AIR) at Sleeping Bear Dunes National Lakeshore. Hanna Louise Poston, a poet from Asheville, North Carolina, is living in the Lakeshore for three weeks, immersing herself in the natural wonders of the dunes, forests, beaches and the varied cultural landscapes this national treasure provides. She will present a free program highlighting her work on Thursday, September 25 at 2:00 p.m. in the Lakeshore visitor center.
Selected from 24 applicants, Hannah Louise Poston is from the North Carolina mountains, the Pennsylvania suburbs, and the Jerusalem hills. She has been studying and writing poems since childhood—the study of poetry has guided her whole adult life. She spent last year as the 2007-2008 Writer-in-Residence at St. Albans School for Boys in Washington, DC, and in October, she will live and work at MacDowell Colony, an artists' community in New Hampshire. Hannah was previously the Thomas Wolfe Scholar in Creative Writing at UNC-Chapel Hill; a full four-year scholarship for one writer in each class. Her poems have appeared, or are forthcoming in several literary magazines, including Poetry Northwest, Hunger Mountain, and Measure.
On Thursday, September 25 at 2:00 p.m., Ms. Poston will present an informative program about her writing and residency. This one-hour presentation is free, open to the public, and will take place in the auditorium of the Philip Hart Visitor Center on Highway 72 in Empire. Works of art by previous Artists-in-Residence are also on display in the auditorium. Please call 231-326-5134 for more information.
Sleeping Bear Dunes National Lakeshore has sponsored the AIR program for over a decade, and it is open, through competition, to American writers, composers, and visual artists, whose work can be influenced and enhanced by the outstanding features that are protected by the National Park Service and enjoyed by millions of visitors year after year. In exchange for the opportunity to live in the park for a short period, Artists-in-Residence donate an original piece of art to the park, interact with visitors while conducting their craft, and offer at least one public presentation of their work in a formal setting. There are only two sessions (September and October) available each year. For more details, please Click Here.