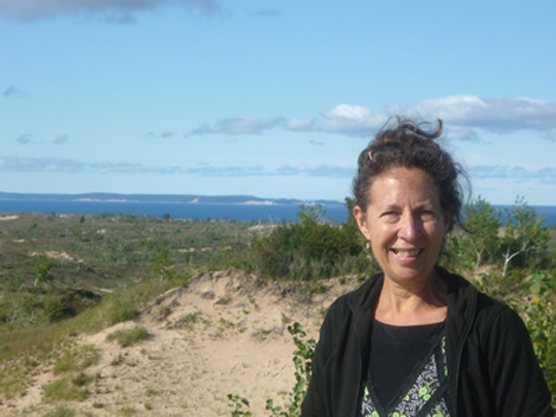 News Release Date:
September 20, 2009
Contact: Susan Sanders, 231-326-5134
Superintendent Dusty Shultz is pleased to introduce 2009's September Artist-in-Residence (AIR) at Sleeping Bear Dunes National Lakeshore. Ellie Harold, a plein aire painter from Frankfort by way of Georgia, is living in the Lakeshore for three weeks, immersing herself in the natural wonders of the dunes, forests, beaches and the varied cultural landscapes this national treasure provides. She will present a free program highlighting her work on Friday, September 25 at 2:00 p.m. in the Lakeshore visitor center.
Selected from 36 applicants, Ellie is a lover of the earth and a painter of landscapes who did not begin painting in earnest until 2003 at age 52. Since that time she has made hundreds of paintings and shown her work in juried shows and galleries in the U.S. and Puerto Rico.
Ellie employs an innate sense of color and compositional design to represent the world around her. Largely self-taught, Ellie paints exclusively in oil, both outdoors and in the studio. Previous careers as a registered nurse, Unity minister, and author add depth and a spiritual dimension to Ellie's art-making. Lovers of her work appreciate her vivid palette, lively style and unique vision. Her paintings from the Caribbean, Southeast U.S., Michigan, Montana, Martha's Vineyard, and England can be viewed on her website: www.EllieHarold.com.
On Friday, September 25 at 2:00 p.m., Ellie will present "Walking the Art-Spirit Path at Sleeping Bear Dunes." This one-hour presentation is free, open to the public, and will take place in the auditorium of the Philip Hart Visitor Center on Highway 72 in Empire. Works of art by previous Artists-in-Residence are also on display in the auditorium. Please call 231-326-5134 for more information.
Following her presentation, Ellie will host a reception and "Wet" Painting Show at the Tweddle Farm from 3:30 p.m. to 5:30 p.m.
Sleeping Bear Dunes National Lakeshore has sponsored the AIR program for over a decade, and it is open, through competition, to American writers, composers, and visual artists, whose work can be influenced and enhanced by the outstanding features that are protected by the National Park Service and enjoyed by millions of visitors year after year. In exchange for the opportunity to live in the park for a short period, Artists-in-Residence donate an original piece of art to the park, interact with visitors while conducting their craft, and offer at least one public presentation of their work in a formal setting. There are only two sessions (September and October) available each year.  Click here for more information.