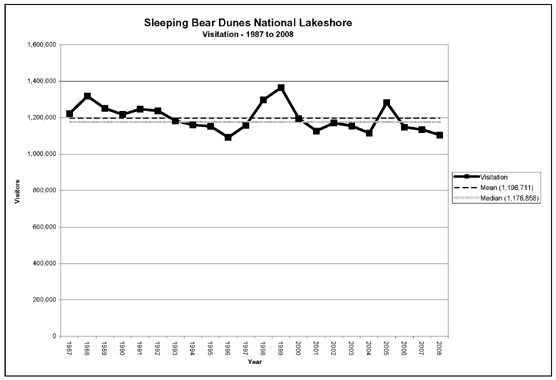 News Release Date:
September 2, 2009
Contact: Tom Ulrich, 231-326-5134
Superintendent Dusty Shultz has announced the correction of the park's visitation figures from July 2008.  "The July 2008 vehicle count at the Dune Climb was entered incorrectly into our monthly public use software," Shultz stated.  "We discovered the error when we entered the count from July 2009."  Shultz noted that even after correcting the figure, which added nearly 100,000 visitors to the 2008 count, that the month and year still saw very low visitation to the Lakeshore.  "Although last July, and the year 2008, were not the record lows for the Lakeshore that we reported earlier, 2008 is still the second-lowest year we have had since the current counting system began in 1987, and last July was the third-lowest July as well."
The corrected figure for visitation to the Lakeshore in July 2008 was 353,863; and calendar year 2008 was corrected to 1,104,597.  From 1987-2008, the average visitation to the National Lakeshore has been 1,196,711, and the median visitation 1,176,858.  These figures show that visitation at the Lakeshore has remained remarkably steady over these 22 years.  Even so, 2006, 2007, and 2008 are three of the lowest six years on record.  The July 2009 year-to-date visitation is up nearly 10% over 2008, and is the highest July year-to-date figure since 2005, which turned out to be the fourth highest year overall.  Superintendent Shultz stated that her staff has seen what appears to be solid visitation in August of this year, but that the real trend for the summer will not be known until the August figures are entered this week.  "Like all the other destinations and visitor service businesses in Leelanau and Benzie Counties, it is July and August that really determine what kind of a year you have.  Regardless of our visitation figures, we will continue to protect the amazing resources of Sleeping Bear Dunes National Lakeshore, and improve the opportunities for visitors to enjoy them."
The graph above shows the annual visitation at the Lakeshore since 1987.
For more information about Sleeping Bear Dunes National Lakeshore, please see our website or call 231-326-5134.