Meet Astronomer Tyler Nordgren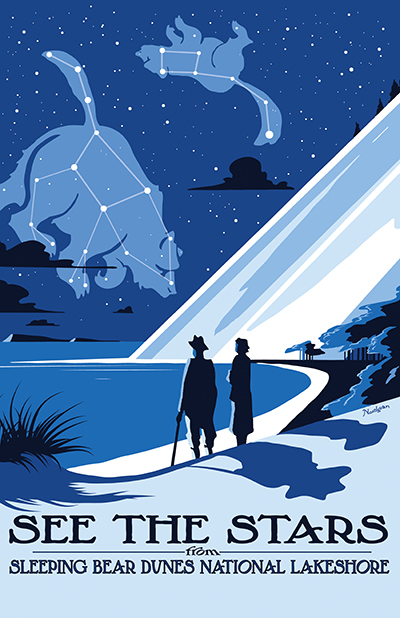 News Release Date:
May 16, 2014
Learn why "Half the Park is After Dark" and kick-off your holiday weekend by enjoying two unique events on Friday, May 23, 2014 at Sleeping Bear Dunes National Lakeshore (National Lakeshore). At 7:00 p.m. at the Philip A. Hart Visitor Center in Empire, Michigan, join astronomer, author, artist, and night sky ambassador, Tyler Nordgren, for an educational and entertaining program on the wonders of dark skies. Then at 10:00 p.m., visitors are invited to join the Grand Traverse Astronomical Society at the Dune Climb parking lot area for night sky viewing. All programs are free. Participants need only purchase the Park Entrance Pass or have an Annual Pass displayed in their vehicle to join in the fun.  
Tyler Nordgren is a Full Professor of Physics and Astronomy at the University of Redlands in California and a member of the Board of Directors of the International Dark-Sky Association. Since 2005, he has worked with the National Park Service to promote astronomy education in U.S. national parks where the public still has a chance to see a natural nocturnal landscape. Dr. Nordgren has helped document this vanishing landscape with award-winning night sky photography that has been on display in galleries from New York City to Flagstaff, Arizona, and in a number of national parks. 
In addition, Dr. Nordgren has also developed a popular poster campaign in conjunction with the National Park Service to "See the Milky Way" in America's parks where "Half the Park is After Dark." Immediately following the auditorium presentation, Dr. Nordgren will be available to sign the Sleeping Bear Dunes night sky posters.
For the night sky viewing with the Grand Traverse Astronomical Society, participants are encouraged to bring their own binoculars, telescopes, or other viewing optics. Please remember to dress for the weather, bring a blanket to sit on, a flashlight for the walk back to your car and bug spray, if needed. This Star Party at the Dune Climb will be cancelled if the sky is not visible due to weather conditions. The decision to cancel is usually made three hours in advance. Please call 231-326-4700, ext. 5005, for a voicemail message with the decision.  
In addition to regular night sky viewing, the evening could hold additional surprises in the form of the Camelopardalid meteor shower. The Earth is expected to pass through the heart of the swarm at about 3:10 a.m., with the first meteors beginning to show up about 1:40 a.m. That is, if they show up at all. Starry night skies and natural darkness are important components of the special places the National Park Service protects. National parks hold some of the last remaining harbors of darkness and provide an excellent opportunity to experience this precious resource. 
Last updated: April 10, 2015