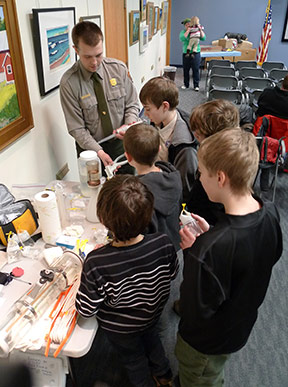 News Release Date:
June 4, 2013
Sleeping Bear Dunes National Lakeshore (National Lakeshore) is redoing Junior Ranger Day on June 8. The original event in April had winds of 40 miles per hour, snow, and freezing temperatures. The National Lakeshore invites everyone to join park rangers and Junior Rangers for a warmer afternoon of fun, where "Every Drop Counts." Spend time with family and friends at the National Lakeshore while exploring, and learning about and protecting your national parks. Water is the theme of the day, so be prepared to have a "splashing" good time!  
1:00 p.m.  Exploring Our Water, Esch Beach
Water testing, Lake Michigan water relay, and other activities await you while you explore Otter Creek and learn about all that water in the big lake. How much do you use?
2:00 p.m.  Water Wise, Visitor Center in Empire
The Visitor Center and Auditorium will host self-guiding stations where you can learn about the Great Pacific Garbage Dump, how many plastic water bottles wash up on Lake Michigan beaches, and what you can do to help. You will be able to vote for what you can do to help protect our water.  
3:00 p.m.  Swearing-in Ceremony, visitor center in Empire
Raise your right hand, repeat the pledge, and get your National Junior Ranger Day certificate and patch and become the newest Junior Ranger at Sleeping Bear Dunes National Lakeshore! Refreshments to follow.
Programs are free. Participants need only purchase the Park Entrance Pass or have an Annual Pass displayed in their vehicle to join in the fun. Please call 231-326-5135, ext. 331, for more information