News Release
Is Your Dog a Bark Ranger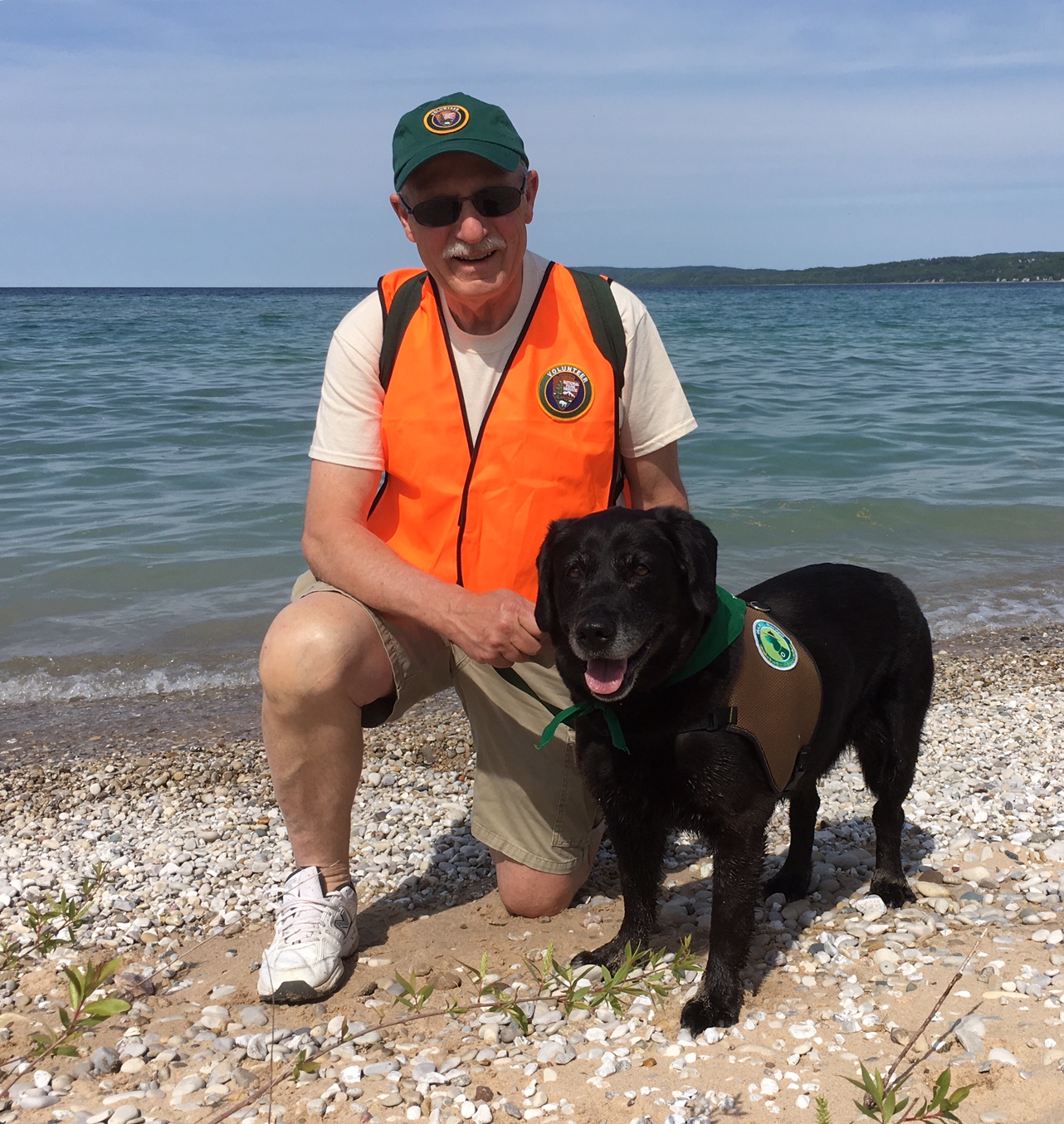 News Release Date:
May 9, 2019 Sleeping Bear Dunes National Lakeshore (National Lakeshore) is hosting an orientation meeting for anyone interested in volunteering to serve as a "Bark Ranger." Bark Ranger volunteers and their canine companions will serve as ambassadors on National Lakeshore beaches to provide visitors information about the park, highlight pet policies, and pet safety. Bark Rangers will also help to protect the National Lakeshore's nesting shorebirds. Interested individuals (no dogs, please) can attend a training session on Saturday, May 18 at 1:00 p.m. at the D. H. Day Log Cabin in the D. H. Day Campground between Glen Arbor and Glen Haven.  Please park in Glen Haven and walk the Sleeping Bear Heritage Trail ¼ of a mile to the log cabin. Accessibility parking is available. Please call ahead. If you are unable to attend the first meeting, park staff may be able to arrange an independent training at the Philip A. Hart Visitor Center. Bark Rangers will receive training and Bark Ranger gear for their dog, if they choose to volunteer with their dog. You do not have to own a dog to become a Bark Ranger.  
This event is part of additional trainings on various aspects of volunteering in the park. Speakers from the Friends of Sleeping Bear Dunes group and NPS wildlife, interpretation, and law enforcement staff will cover the basics of the Volunteer-In-Park (VIP) program, information about the park and its programs, training in visitor contact methods, safety, and scheduling. The BARK Ranger program will be a break-off session of this training.
National Lakeshore Wildlife Technician and BARK Ranger Coordinator Christopher Long is looking forward to the event. "The National Lakeshore is unique among many park service units as it allows dogs in several areas, which can be a great experience for our visitors. However, leash laws and pet restrictions in certain areas are crucial to keeping pets, humans, and wildlife safe. This is especially important for our park's piping plovers, an endangered shorebird that is easily disturbed or threatened by dogs, especially if off-leash." As of 2018, with 28 pairs within the park and 67 known pairs throughout the entire Great Lakes, the National Lakeshore provides critical habitat to over one-half of the entire breeding population of the Great Lakes Piping Plover. "We are concerned about impacts from dog owners who may not fully understand the stress of dogs on wildlife or restrictions in the National Lakeshore. BARK Rangers will play a central role in visitor education and outreach regarding this issue. Leading by example and opening conversations with fellow visitors is a great way to bridge the information gap to protect piping plovers and other wildlife."
If you are interested in volunteering, but are unable to attend the May 18 session, please contact Christopher Long, Wildlife Technician and BARK Ranger Coordinator for Sleeping Bear Dunes National Lakeshore, at (231) 326-4751.
Last updated: May 14, 2019