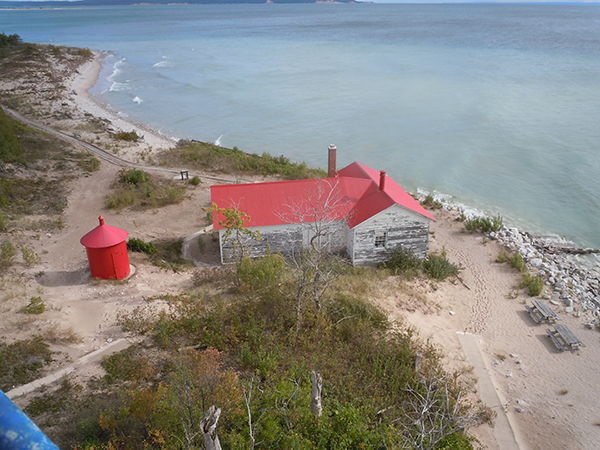 News Release Date:
July 1, 2013
Three generations of descendants of four different Lighthouse Keepers will assemble at the South Manitou Island Lighthouse on July 10. The families of Keepers Aaron Sheridan, Julia Sheridan, James Putnam Burdick, and Ron Rosie will be working to restore the historic Fog Whistle Building below the lighthouse in Sleeping Bear Dunes National Lakeshore (National Lakeshore). The Fog Whistle Building was built in 1874 when Aaron Sheridan was Keeper and held the first steam-powered signal whistle on Lake Michigan. Today, the lighthouse complex, located six miles from the mainland, is preserved by the National Park Service.
"To our knowledge, this is the first time so many Keepers' families have come together at the lighthouse," said National Lakeshore Superintendent Dusty Shultz. "We are pleased and grateful to be able to host them as they volunteer their time to restore the very buildings their ancestors served in." The Keepers' families were brought together on this project by long-time National Lakeshore volunteer Gwen Glatz of Muskegon, Michigan. "Once the families learn of the opportunity to volunteer their time and talents to restoring these emblems of their legacy, the work becomes very personal to them," said Glatz.  "I have seldom seen such passion in volunteers. Many return every year to accomplish just a little more."
From 11:00 a.m. to 3:30 p.m., the descendants will be sharing the stories of the Lighthouse Keepers with visitors to the island, and volunteers and park staff will be displaying the historic preservation work they are doing. Each family represented will have a handout with information on the role their ancestors played in shaping the island's history. The grandchildren, great-grandchildren, and great-great-grandchildren of Lighthouse Keepers who served from the 1870s to the 1940s are coming from Saugatuck, Holland, Lansing, Douglas, and other locations throughout Michigan. One of the descendants is traveling from as far away as Oregon to participate.
For more information on the restoration project, please contact National Lakeshore Historic Architect Kimberly Mann at 231-326-5834, extension 501. For information on how to get to South Manitou Island, contact Manitou Island Transit at 231-256-9061, or visit their website.