Award for Bravery Presented to Sleeping Bear Dunes Ranger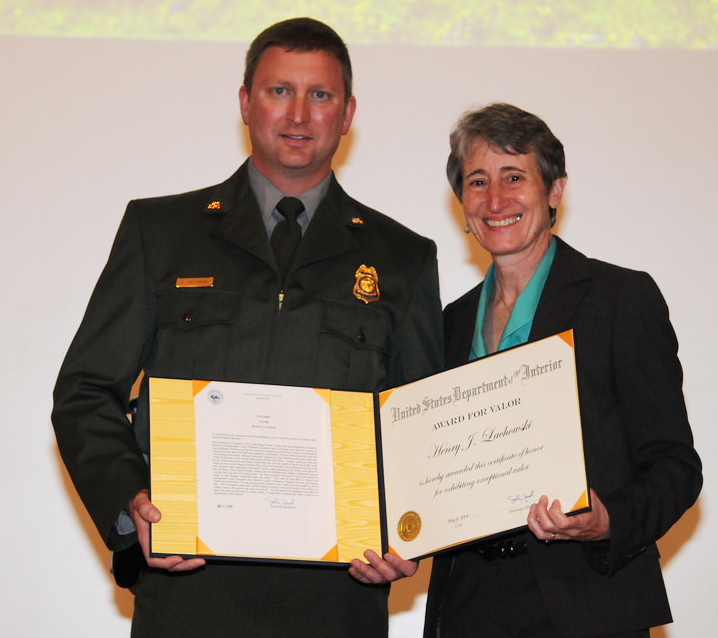 News Release Date:
May 14, 2014
Congratulations to Sleeping Bear Dunes National Lakeshore Park Ranger Joe Lachowski who was recognized as the recipient of a Valor Award at the Department of the Interior's (DOI) 69th Honor Awards Convocation in Washington, D.C. on May 8.
Ranger Lachowski was honored for his courageous and valiant attempts to rescue a swimmer in distress who had been trapped in a strong rip current in the waters of Lake Michigan near Peterson Beach in 2012.
Secretary of the Interior Sally Jewell also presented Valor Awards to 16 other employees who demonstrated unusual courage in the face of danger. In addition, she presented the Citizen's Award for Bravery to three private citizens who risked their lives to save others while on DOI lands.
"These heroes rappelled from helicopters, scaled cliffs, swam through rapids, and protected park visitors from hazards," said National Park Service Director Jonathan B. Jarvis. "They put their own lives in peril to help others. Yet, each one of them would humbly say they were simply doing their jobs. Their passion to serve others is inspiring."
Superintendent Dusty Shultz echoed the Director's sentiments in honoring Ranger Lachowski: "Joe, congratulations on receiving this exceptional honor and for your heroic efforts to rescue a visitor and for potentially preventing a greater loss of life. Our hats are off to you."
Last updated: April 10, 2015