Ranger-led Programs
Sequoia and Kings Canyon National Parks Ranger-Led Programs
Join a National Park Service ranger and explore sequoia groves, take a moonlight walk, or gaze at distant mountains at Beetle Rock. Learn about bears and other mountain wildlife at visitor center talks. And if you're staying in a campground, stop by the amphitheater for an evening program. Walks, talks, activities, and evening programs are free and open to the public. We invite you to join us!
Most programs are scheduled in summer from Memorial Day (late-May) through Labor Day (early September). Limited programming is offered during other times of the year, depending on availability of staff. Ranger programs will be advertised on our online calendar. However, we recommend checking with a visitor center once you arrive. They will post updated program information, as occasionally programs are added or canceled due to unforeseen circumstances. Be sure to choose programs in the area where you're staying, or allow for travel time to programs in other areas.
Foothills Programs
Rangers here offer a daily foothills feature at 10:00 am and a daily bear talk at 11:00 am. Both of these are about 15 minutes. We offer 45-minute campground programs at Potwisha Amphitheater on Fridays, Saturdays, and Sundays.
Giant Forest and Lodgepole
Daily 45-minute campground programs at Lodgepole. A schedule with topics is posted in the campground. Programs start at 8:30 pm in July and 8 pm in August. Chats available daily at 11 am, 1 pm, and 3 pm—meet at the Sentinel Tree at the Giant Forest Museum and enjoy a 15-minute talk. Topics may include giant sequoias, air quality, black bears, or ranger's choice! Check at the Giant Forest Museum for today's topics.
Grant Grove
Regular Monday through Friday offerings include walks and talks at the General Grant Tree. On Saturdays, attend a Critter Chat at 2:00 pm and ask about that evening's activity. Because our amphitheater is being remodeled, evening programs will vary week to week. Check at the visitor center for topics and times. On weekends, you can find rangers out and about giving personalized "pop-up" programs.
Cedar Grove
Weekly offerings include guided hikes at Zumwalt Meadow Trail, Creature Chats, Ranger Chats, and evening programs most weekends.Topics vary for Ranger Chats and evening programs. Ask at Cedar Grove Visitor Center for more information.
Sequoia Parks Conservancy Naturalist-Led Programs
Join our partner, the Sequoia Parks Conservancy (SPC), for a naturalist program.
Sequoia Journeys
Sequoia Journeys are private and customized, guided national park experiences for you and your small group. Sequoia Journeys tours follow CDC safety guidelines and are led by SPC's trained naturalists who will guide you through the amazing sights and sounds of the parks. Experiences such as sequoia grove night hikes, secluded meadows tours, exclusive astronomy programs, and overnight backpacking trips are available. Visit SPC's Journeys webpage or call 559-565-4251 to book a trip and learn more. We recommend booking tours two weeks in advance of your visit to the park.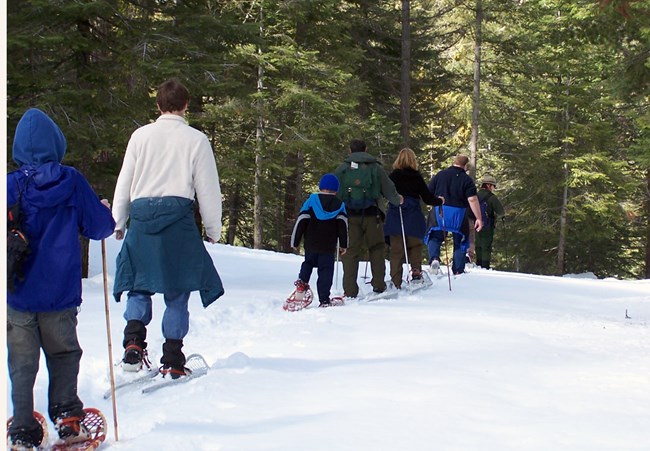 Winter Snowshoe Walks

Our popular ranger-guided snowshoe walks are a great way to explore snowy trails. Snowshoe programs are usually offered from December to March, as long as there is at least 8 inches of snow on the ground. Walks are added to our online program calendar as soon as snow is deep enough. Visitor centers also post snowshoe walk schedules on bulletin boards. Check program announcements for details on how to make reservations to hold your spot.

Sequoia Parks Conservancy also offers naturalist-led winter snowshoe walks. Check their calendar for program offerings.
Last updated: July 22, 2021