Skiing & Snowshoeing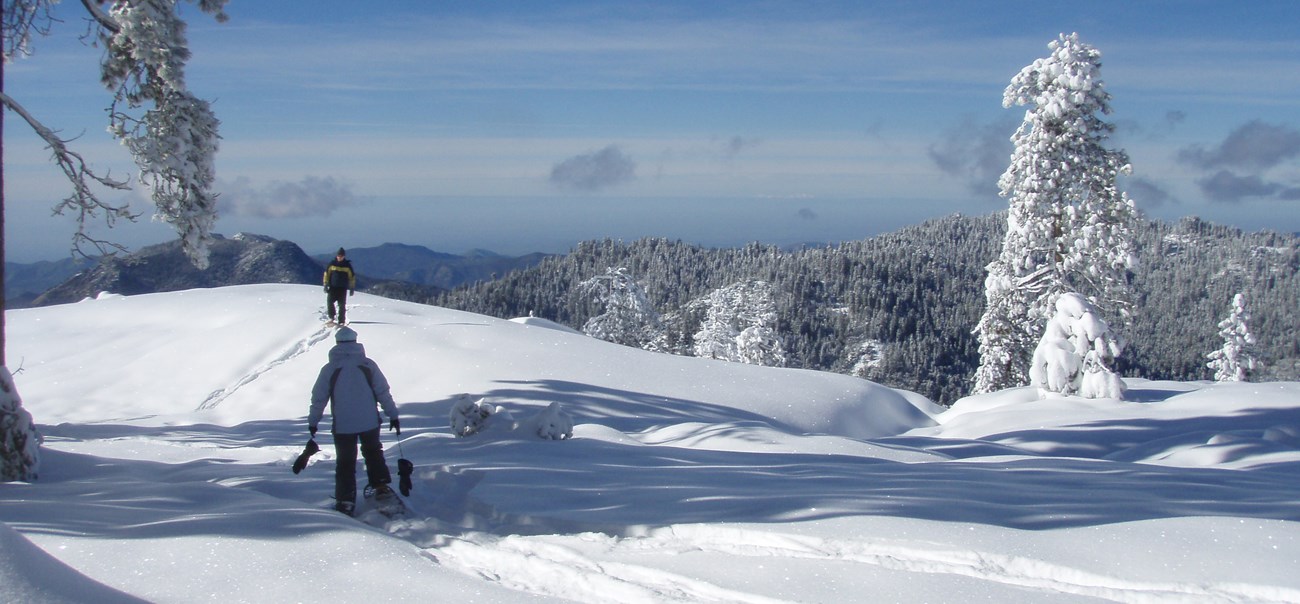 Free, Ranger-guided Snowshoe Walks
No experience necessary! We provide the snowshoes; you bring warm layered clothing, waterproof boots, gloves, hat, sunglasses, sunscreen, water, and a snack. The walks are moderately strenuous. Children who participate in ranger-led snowshoe walks must be 10 years and up (due to the size of the snowshoes and the moderately strenuous conditions). Waterproof shoes are required (no tennis shoes please). Walks last 1½ - 2 hours and are range from 1.5 - 2 miles in length.
Snowshoe walks typically begin as soon as there's enough snow on the ground, and end as snow conditions deteriorate. If snow conditions are poor, rangers may offer a guided hike instead of a snowshoe walk. For these hikes, we recommend traction devices (cleats) for your boots.

Reservations are required. Snowshoes are provided for this program with a 20-person program limit that can vary in distance, time, and difficulty. Call or make a reservation in person at the visitor center to secure your spot. Snowshoe walks may be cancelled if there's not enough snow or due to poor weather conditions. For a complete list of ranger talks and programs visit our events calendar.
Exploring on Your Own
Many trails are suitable for snowshoeing when there's enough snow. Rent snowshoes at Grant Grove Market, or bring your own. Purchase a map of ski trails at any visitor center and look for reflective markers on trees that show popular paths. When snowshoeing, stay clear of ski tracks. Check the park newspaper's winter safety tips.
Cross-country Skiing
If there is sufficient snow, many areas of the park may be accessed by skis. Both Giant Forest and Grant Grove offer ski trails through sequoia groves. Purchase a map of ski trails online or at any visitor center. Please avoid skiing in residential areas, plowed roads, and other areas as signed.
Overnight Ski and Snowshoe Trips
For well-prepared and skilled winter travelers, the challenges of exploring park wilderness lands in winter can lead to a rewarding experience. Be familiar with ways to stay safe in cold or snowy weather conditions; be prepared for emergencies, and remember that weather in these mountains can change suddenly. Wilderness permits are required for all overnight trips away from designated campgrounds. Whether you stay at Pear Lake Winter Hut or create your own campsite, enjoy your adventure and be safe.
Pear Lake Winter Hut
Due to ongoing impacts from the KNP Complex Wildfire and the COVID-19 pandemic, the Pear Lake Winter Hut will remain closed for the 2022/2023 season. Sequoia Parks Conservancy is committed to the safest and most enjoyable experience for Pear Lake Winter Hut users. Sequoia Parks Conservancy will be working with the National Park Service to reopen Pear Lake Winter Hut for the 2023/2024 season.
Pear Lake Winter Hut in Sequoia National Park is managed by the Sequoia Parks Conservancy and is open for use by the general public from mid-December through April. It is located 3/8 of a mile north of Pear Lake at 9,200 feet (2804 meters) and is reached by ascending a steep six miles of trail from Wolverton Meadow (7,200 feet). This advanced level ski/snowshoe trail offers a chance to explore the beautiful wilderness of the Sierra Nevada mountains in winter. The hut sleeps 10 people and is heated by a wood pellet stove (pellets provided). Advance reservations are required. The Sequoia Parks Conservancy offers reservations and detailed information about Pear Lake Winter Hut.
Last updated: September 28, 2023