Cold Springs Campground
Cold Springs Campground is located 23 miles (37 km) from Highway 198 on the Mineral King Road. The campground is located near the Mineral King Visitor Center amid aspen and evergreen trees. Situated along the east fork of the Kaweah River, this remote campground is open to tent camping during the summer season. The campground is located one hour from the town of Three Rivers, one and a half hours from the main entrance to Sequoia National Park, and two and a half hours to Giant Forest Museum.
Campground Information
This campground has 40 campsites available for tents only on a first-come, first-served basis (no reservations available). The campsite fee is $12 per night. There are 31 regular sites and 9 walk-in sites (located approximately 100-200 yards walking distance from parking area, depending on site).
Amenities or Services
A pay telephone
Vault toilets
Potable water through October 14, 2020
Trailheads nearby and a giant sequoia grove at Atwell Mill about 5 miles (8 km) away
A restaurant, small gift store, limited supplies, and showers are available at the Silver City Resort (on private land) 2.5 miles (4 km) west of the campground. More extensive services can be found in the town of Three Rivers, 27 miles (44 km) west of Cold Springs Campground.
Other Information
You are required to store food properly in order to protect bears. Each campsite has a large food storage locker (47"W x 33"D x 28"H) that is resistant to bears when properly latched. Learn more about bears and food storage in the parks.

Protect your car from marmots. Marmots will chew through car wiring and radiator hosing, disabling the vehicle. They are especially active in Mineral King in spring and early summer. Use tarp to cover your vehicle's undercarriage and prepare with marmot safety tips.
Pets are permitted within the campground, but must be leashed at all times. Learn more about pet regulations.
A map of the campground is shown below. Download the Cold Springs Campground map for a larger, printable image.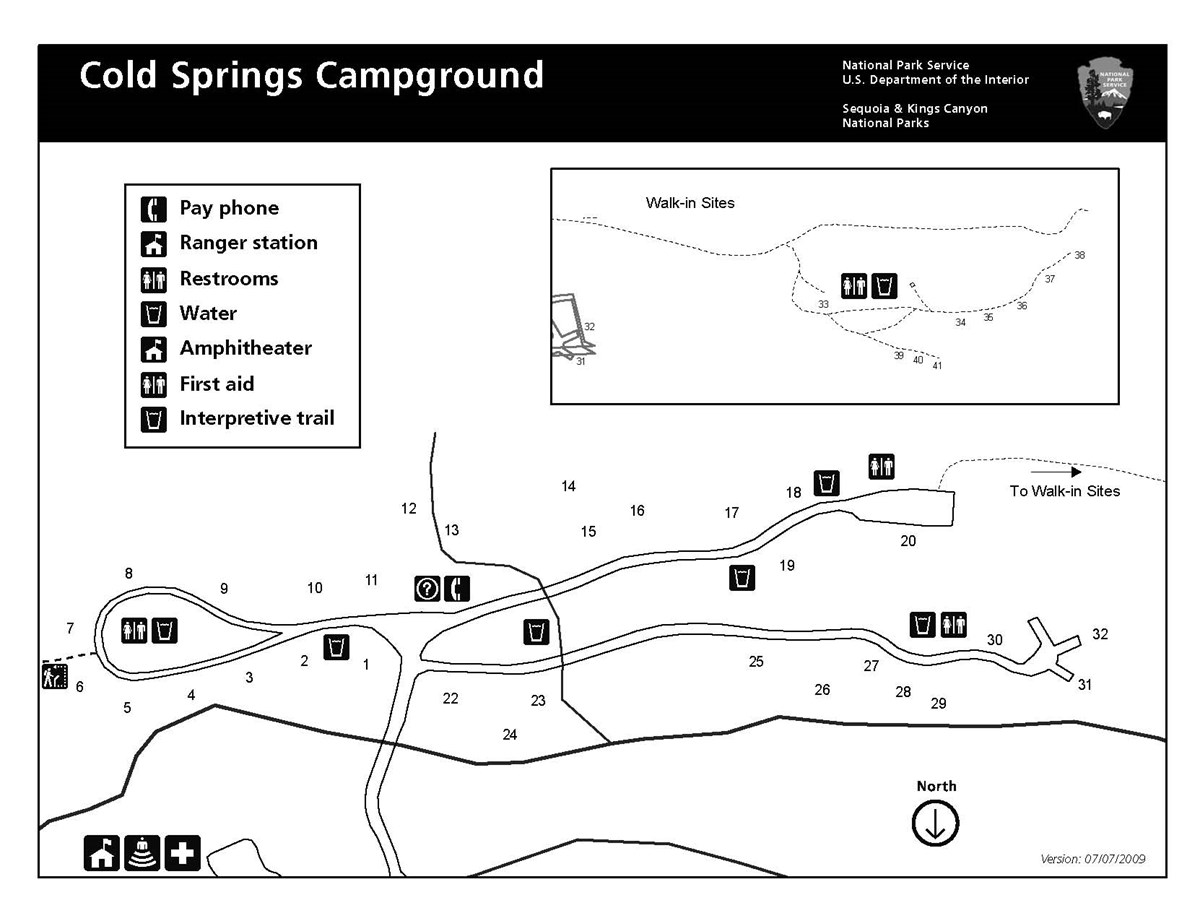 Last updated: September 2, 2020