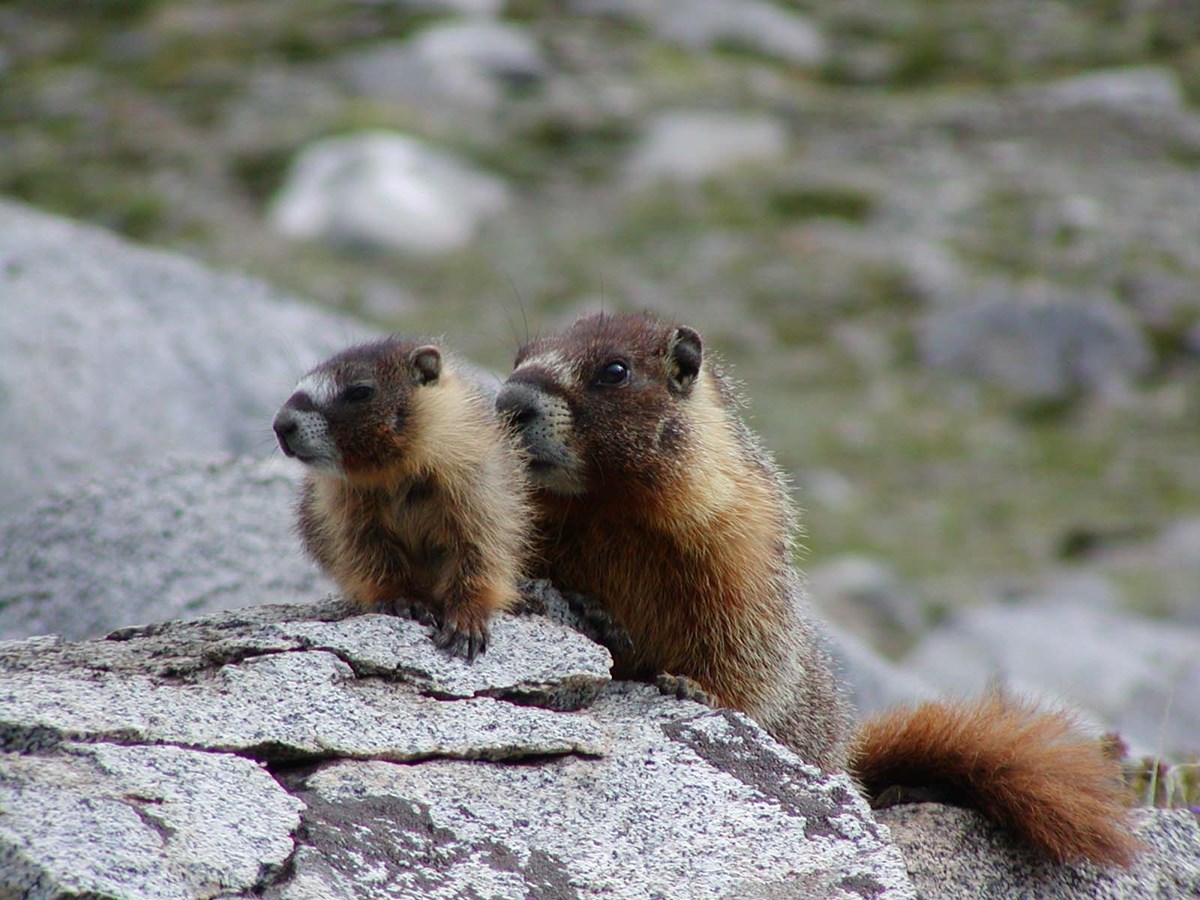 Sequoia and Kings Canyon National Parks have an impressive elevation range from the low foothills to the Sierra Nevada peaks, and provide habitat for a diversity of animals.
Below are highlights of animals you can find at different elevation zones of the parks, and links to learn more about park animals.
Foothills
In the low-elevation foothills, summers are hot and dry and winters are mild. You will find oak woodlands, dense chaparral shrubs, and riverside vegetation like California sycamores, willows and cottonwoods. A number of animals live in this area year-round, while some only winter or breed here. Local species include the gray fox, bobcat, striped and spotted skunks, black bear, woodrat, pocket gopher, white-footed mouse, California quail, scrub jay, lesser goldfinch, wrentit, acorn woodpecker, gopher snake, California kingsnake, striped racer, western whiptail lizard, and the California newt.
Montane Forests and Meadows
In the low to mid-montane elevations are mixed forests of pine, incense-cedar, fir, and scattered groves of giant sequoia provide. Further upslope, grow pure stands of magnificent red fir and lodgepole pine forest. Scattered meadows are lush with many kinds of flowers in the summer. Winters are typically snowy. Year-round and seasonal residents include the chickaree, gray squirrel, golden-mantled ground squirrel, mule deer, black bear, mountain lion, and a variety of birds. Resident birds include western tanager, violet-green swallow, white-throated swift, Wilson's warbler, olive-sided flycatcher, hermit thrush, western bluebird, and pileated woodpecker. Reptiles are not common, but occasionally mountain kingsnake, rubber boa, western fence lizard, and alligator lizard can be seen.
Subalpine and Alpine Areas
The high country is a land of lakes, meadows, some open forest, and miles of granite. Mammals are less common here, and food is scarce. Mammals inhabiting these high Sierra landscapes include the marmot, pika, and white-tailed jack rabbit. Birds include the Clark's nutcracker, mountain bluebird, American pipit, and gray-crowned rosy finch. In this region, you may also be lucky enough to find a mountain yellow-legged frog or a Sierra Nevada bighorn sheep, both endangered species for which recovery efforts are underway.