Azalea Campground
Azalea Campground in the Grant Grove area, 3.5 miles (5.6 km) from the Kings Canyon National Park entrance on Hwy 180. The campground is under open stands of evergreen trees at an elevation of 6,500 ft (1,980 m) and is within walking distance of the General Grant sequoia grove. In summer, Azalea shrubs bloom with showy, fragrant white flowers.
Campground Information
Though this campground is usually open year-round, but it is currently closed due to a regional stay-at-home order issued by the State of California for the San Joaquin Valley region.

Azalea Campground has up to 110 campsites available on a first-come, first-served basis, in summer. In winter, 48 sites are available. No reservations are accepted. The campsite fee is $18 per night.
Site #30 is accessible for people in wheelchairs.
Camping is open to tents, RVs, and trailers year-round, although sites are often snow covered in winter. It is a good idea to bring a shovel for winter camping.
Seasonal site availability varies with snow cover and demand. Dates are approximate and may change without notice:
20 sites are open from early Nov - mid-April
40-88 sites are open from mid-April - early May
110 sites are open from mid-May - early November
RV Information
The length of RV or trailer that can be accommodated varies by site. The campground has no hookups or dump stations. The nearest dump stations (summer only) are: Dorst Creek Campground in Sequoia National Park, or Princess Campground (Hwy 180 at Hume Lake junction) in Sequoia National Forest. Generators are allowed between 9 am and 9 pm.
Amenities or Services
Azalea Campground has:
Flush toilets

Ranger programs (in summer)
Other Information
You are required to store food properly in order to protect bears. Each campsite has a large food storage locker (47"W x 33"D x 28"H) that is resistant to bears when properly latched. Learn more about bears and food storage in the parks.
Pets are permitted within the campground, but must be leashed at all times. Learn more about pet regulations.
A map of the campground is shown below. Download the Azalea Campground map for a larger, printable image. For information inquiries call: (559) 565-3341.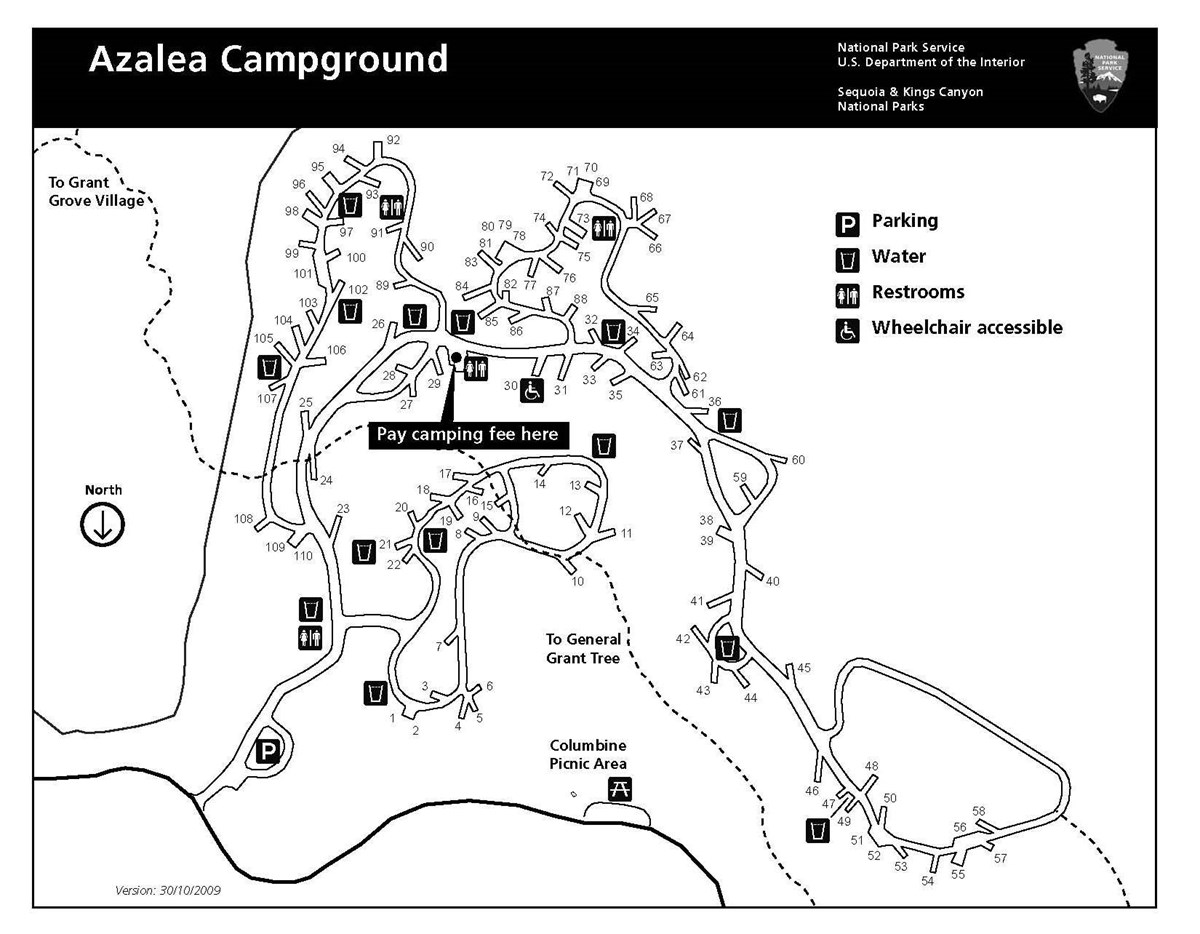 Last updated: January 19, 2021