News Release
Giant Sequoia Mortality Estimates Released for the 2021 KNP Complex and Windy Fire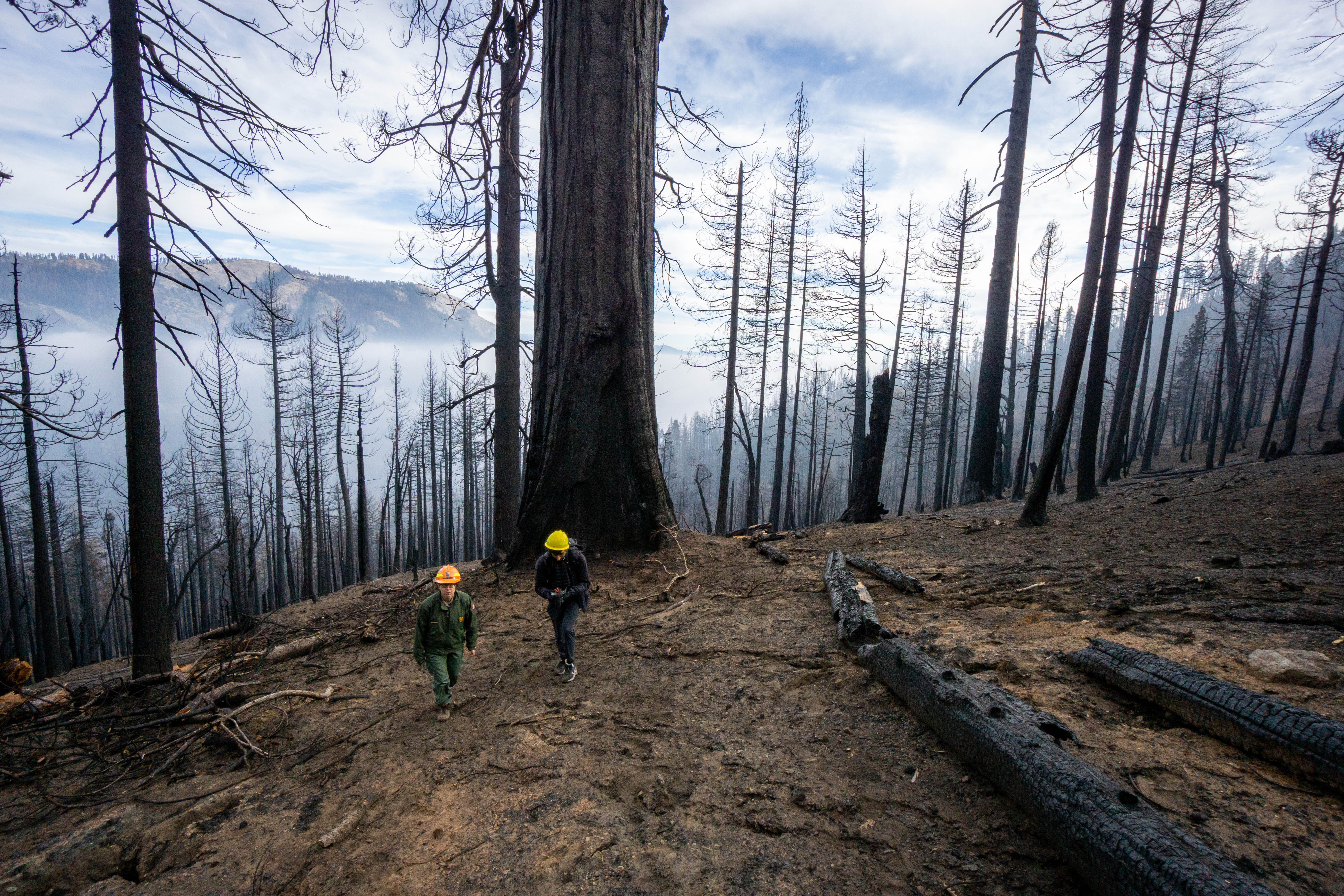 News Release Date:
November 19, 2021
Contact: Rebecca Paterson, (559) 702 3400
SEQUOIA AND KINGS CANYON NATIONAL PARKS, Calif. November 19, 2021 – Land managers in the Southern Sierra Nevada are reckoning with the effects of large wildfires ignited by a significant lightning event in early September, including the KNP Complex, which burned mostly within Sequoia and Kings Canyon National Parks, and the Windy Fire, which burned mostly on the Sequoia National Forest.  
Findings from a recently compiled fire response plan estimate that across the footprints of the two fires, between 2,261 and 3,637 large giant sequoias (four feet or more in diameter) have either already been killed by fire or have been so severely burned that they are expected to die within the next three to five years. These losses make up approximately 3-5% of the world's population of large giant sequoias.  
This assessment of impacts to giant sequoias comes from a report compiled by a Burned Area Emergency Response (BAER) team and are drawn from analysis conducted by scientists from the Nature Conservancy and the National Park Service. These giant sequoia groves are located across lands administered by Sequoia and Kings Canyon National Parks, Sequoia National Forest, Tule River Tribe, UC Berkeley, and Save the Redwoods League, all partners in the Giant Sequoia Lands Coalition, established earlier this year to collaborate on strategies to protect these threatened trees. 
These 2021 losses are being quantified in the wake of 2020's highly destructive Castle Fire in the same region, which resulted in the mortality of 10-14% of the world's native population of large giant sequoias. After such devastating losses last year, there has been significant concern about the impacts of the 2021 fires.  
These estimates include 1,330 – 2,380 trees within the KNP Complex footprint and 931 – 1,257 trees within the Windy Fire footprint. In total, 27 giant sequoia groves fall fully or partially within the perimeters of the fires. These estimates were calculated by comparing pre- and post-fire satellite imagery classified by fire severity, aerial reconnaissance, and on-the-ground assessments where possible.  
While giant sequoias require periodic low-to-moderate intensity fire to maintain healthy ecology, a history of fire suppression across the American West has resulted in denser forests with high levels of fuel loading. In combination with hotter droughts driven by climate change, these conditions have changed how wildfire burns in the southern Sierra Nevada, resulting in large areas of high severity fire effects and massive fire events. 
"The sobering reality is that we have seen another huge loss within a finite population of these iconic trees that are irreplaceable in many lifetimes," says Sequoia and Kings Canyon National Parks Superintendent Clay Jordan. "As we navigate the complex process of restoring access to the parks, we will continue to work diligently with our partners in the Giant Sequoia Lands Coalition to become ever-better stewards of these incredibly special places, despite the enormous challenges we face." 
Some key areas, such as the Giant Forest in Sequoia National Park, experienced reduced fire severity, due in large part to a history of prescribed burning. As this year's wildfires approached sequoia groves, firefighters deployed new tactics that reduced losses to these trees from high severity fire. Many areas within the fire footprints burned at low to moderate severity, and some areas did not burn at all.  
To view the executive summary of the impacts of the 2021 fire season on giant sequoias, read the full report of these findings as extracted from the response plan, or find more information and resources about emerging threats to giant sequoias, visit 
www.nps.gov/seki/learn/gslc.htm
. A media kit with contacts for all Giant Sequoia Lands Coalition partners, photo galleries, fact sheets, and more is also provided on this site. 
Last updated: November 19, 2021