Daniel Morgan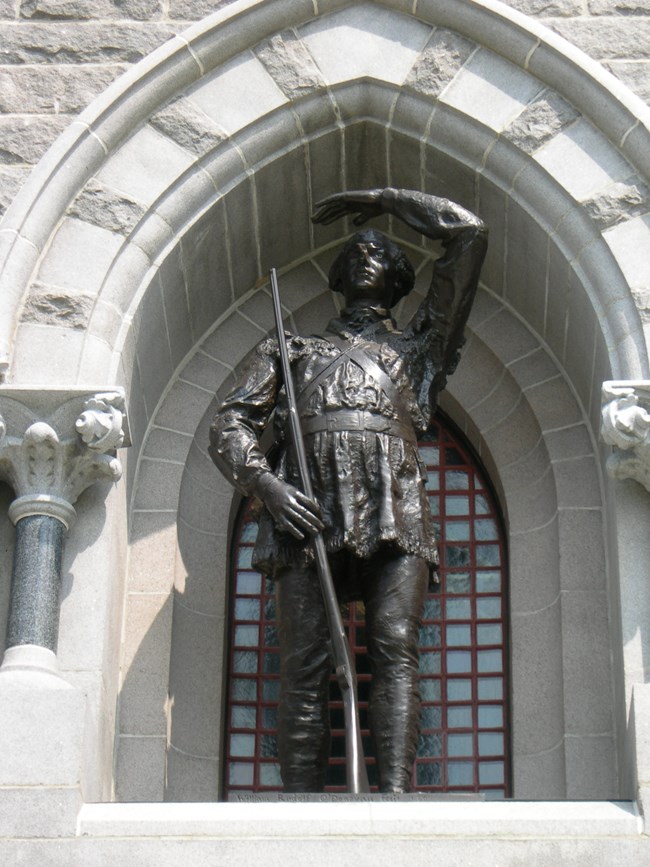 Daniel Morgan's name is a familiar one in anything written about the Battles of Saratoga. He is immortalized in John Trumbull's 1821 painting in the Rotunda of the United States Capitol and is one of three statues on the exterior of the Saratoga Monument. There is also a monument to him on the battlefield. What did he do to merit this recognition? Join us as we explore the life of this simple, barely literate, rough-hewn backwoodsman who was instrumental in the American victory at Saratoga and decide if he exemplifies what it means to be an American hero.

Little is known about Daniel Morgan's early life. Virginia, Pennsylvania and New Jersey claim him as a native son. He appeared at the age of 18 in Winchester, Virginia where he became a wagoner. Hired by the British in 1755 to haul goods during the French and Indian War, he struck a British officer and received 500 lashes for that offense. Recruited as a Virginia Ranger he was severely wounded leaving him with life-long scars. Morgan liked to drink, play cards, wrestle, fist fight and race horses. He became a militia captain in 1771.

In 1775, Captain Morgan was placed in charge of one of the Virginia rifle companies authorized by Congress and later that year commanded the three rifle companies assigned to the force led by Benedict Arnold to invade Canada. He was captured by the British during the unsuccessful assault on Quebec, imprisoned and later released on parole.

Exchanged in January 1777, Morgan quickly accepted the colonelcy of the newly formed 11th Virginia Regiment. In June 1777, Colonel Morgan is placed in charge of a 400-man corps of riflemen, drawn from the Virginia and Pennsylvania lines in Washington's army and sent to the Northern Army under Horatio Gates to bolster it against the British invasion from Canada. General Gates augments the corps by combining it with 300 light infantry under Major Henry Dearborn.

On September 19, 1777 a British column moved onto Freeman's Farm and Gates, at Benedict Arnold's behest, agreed to oppose them. The first troops sent were Morgan's corps. Advancing along a narrow path (you can follow in their footsteps by taking the trail from stop 4 to 6 on the tour road) the riflemen advancing in scattered groups drive the British pickets off Freeman's farm (stop 6) and into the woods on the North side where they, in turn, are attacked by a force under General Fraser: two companies of the 24th Regiment, a light "grasshopper" cannon, Indians, Canadien militia and, possibly, American royalists. move onto the field. Scattered by this British counterattack, it took Morgan several hours to gather the riflemen together. They then moved into a wooded ravine on the right of the American line where they took a toll on the opposing British, particularly the 62nd regiment.

On October 7th a British reconnaissance force was detected in the Wheatfield (stop 5) and Gates and Arnold decide to make a two-pronged attack sending Morgan to attack the British right and, initially, the 3rd New Hampshire, and later, Poor's entire brigade to attack the British left. The British were routed, and Morgan's men pursued them ending up at Breymann's armed camp (stop 7) where they were instrumental in the assault resulting in its capture. This ensured the American victory at the Battles of Saratoga and caused the British to retreat and ten days later to surrender – the turning point of the Revolutionary War. General Gates in his report to the Continental Congress said, "too much praise cannot be given to the Corps commanded by Col. Morgan".

Morgan returned to Washington's army where he participated in the Battle of Monmouth in June 1778. and was granted an "honorable furlough" by Congress in July 1779. Nearly a year later Congress called upon Morgan to join the Southern Army.

Now Brigadier General commanding a nearly 1,000-man "flying army consisting of infantry and horse" he was attacked by the 1,100-man highly mobile Tarleton's Legion at Cowpens, South Carolina on January 17, 1781. Morgan conceived a brilliant, though unorthodox, battle plan placing his men in three lines with his most inexperienced and unreliable men in front. Morgan routed the Legion achieving an overwhelming American victory. After the battle General Greene, the commander of the Southern Army, said: "Great generals are scarce – there are few Morgan's to be found".

Daniel Morgan's health, declining since the winter expedition to Canada in 1775, continued to deteriorate. He took a leave of absence and returned to duty in 1781, but was forced to return home again effectively ending his service. Following the War, he became relatively prosperous but his service to his country was not over. He became a Major General in the Virginia militia and was asked by President Washington to help end the Whiskey Rebellion in 1794. In 1797 he was elected to Congress. Daniel Morgan died on July 6, 1802 at the age of 66.

Is it a fair assessment to say he gave his life for his country? What do you think?
Last updated: December 7, 2020