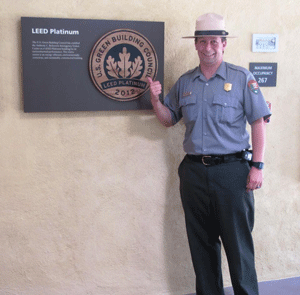 What is LEED?
"LEED, or Leadership in Energy & Environmental Design, is redefining the way we think about the places where we live, work and learn. As an internationally recognized mark of excellence, LEED provides building owners and operators with a framework for identifying and implementing practical and measurable green building design, construction, operations and maintenance solutions." - U.S. Green Building Council
The Visitor Center's innovative design earned a high enough score in the LEED credit categories to earn a "Platinum" Certification – the highest honor offered. The conversion of the old stable to the new Visitors Center was done with energy conservation, visitor health, and lower operating costs in mind: setting precedent for future buildings in the National Recreation Area.
The U.S. Green Building Council judged the Visitor Center on various Project Credit Categories. The five main categories are listed below.