C-144 walks near downtown Los Angeles after midnight on July 16, 2015. | Photo: National Park Service
Technology giveth and it taketh away. For nearly five months, the GPS collar worn by the coyote known as C-144 provided rich and accurate location data that shed light onone of the most urban coyotes ever studied. 
And then the battery died. Right when it was getting really interesting.
After spending most of her time in the Westlake neighborhood just west of downtown Los Angeles, with occasional forays across the 101 Freeway into Echo Park, C-144 suddenly left her home range and headed west. Her jaunt included traveling through Koreatown, East Hollywood, Larchmont, Windsor Square, and Hancock Park. She returned after just a few days, but the battery in her collar died shortly thereafter.
"It's highly unusual for an alpha female to leave her home range like this," said Justin Brown, a biologist with Santa Monica Mountains National Recreation Area. "We'd really like to understand why she left her territory, but unfortunately without a working collar we probably will never know."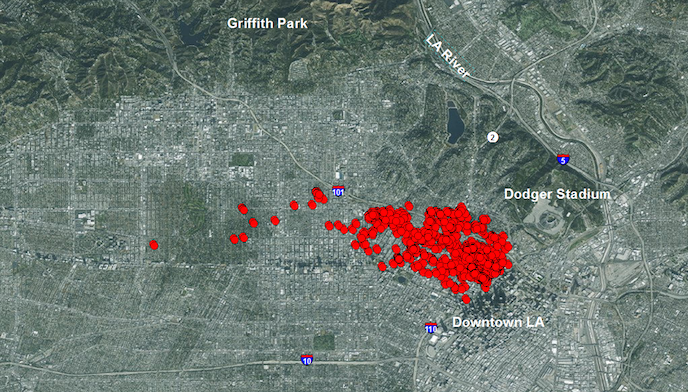 Above, C-144's recorded GPS locations from May to late September 2015. C-144 spent most of her time in the Westlake neighborhood just west of downtown LA. | Image: National Park Service
Although Brown is unsure why C-144 would move to the west, it's possible it could have been related to the loss of a mate, a change in the availability of a food source, or an attempt to help pups establish their own territory once they disperse.
Because coyotes are difficult to re-capture and there are limited locations available to capture her  in her home range, Brown is doubtful that he'll be able to replace her collar. He hopes to capture one of her pack mates in the near future in order to better understand pack dynamics, such as whether the pack will stay together and what happens to young animals that need to find their own home range in heavily urbanized areas.
Still, C-144 (and her GPS collar) gave us a glimpse of something incredible: a top predator surviving and caring for her pups in a densely populated area with very little natural habitat -- not occasionally visiting from a more natural area, but actually persisting entirely within the confines of an extremely urbanized habitat. 
We're grateful for the GPS technology that gave us a peek into her fascinating life and extremely disappointed about the battery that died far too soon.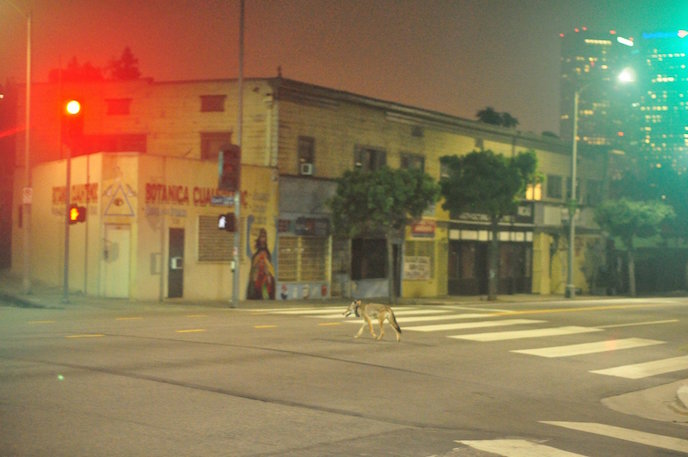 C-144 crosses a Los Angeles street in the early hours of the morning. | Photo: National Park Service