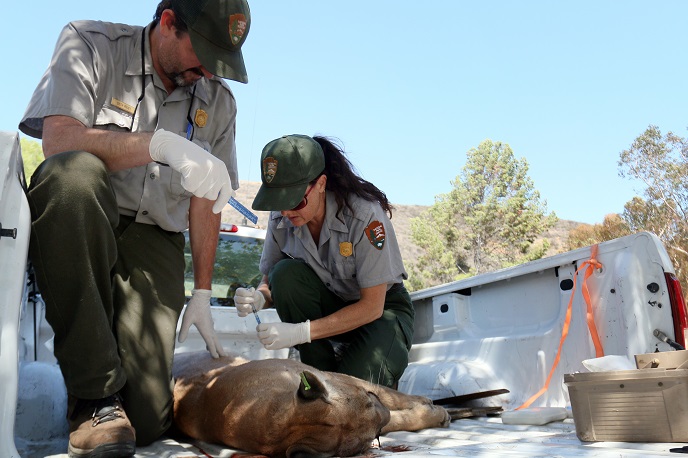 Dr. Seth Riley (left) and Joanne Moriarty prepare to conduct a necropsy on P-32. National Park Service photo.
You may have heard the recent news coming out of our mountain lion study. P-32, the puma who safely crossed a handful of Southern California highways, has died. He was found Monday morning on Interstate 5 near Castaic Lake after being struck by a vehicle. 
Sad news, but not surprising. Mountain lions in the Los Angeles region face a number of challenges to their way of life. In this case, it appears two of the most common may have collided: intra-specific conflict (that's to say, mountain lions fighting and/or killing other mountain lions) and habitat fragmentation. 
To the latter, busy freeways can be a major hurdle for the connectivity of traveling animals. The 101 has proven itself as just that time and time again. It's like a wall, separating the Santa Monica Mountains from hundreds of miles of open space leading north to the Bay Area. 
That's why it was
big news
when P-32 crossed the 101, from the Santa Monica Mountains into the Simi Hills. He accomplished something that we've observed
only twice
before in our 13-year study of over nearly four dozen lions.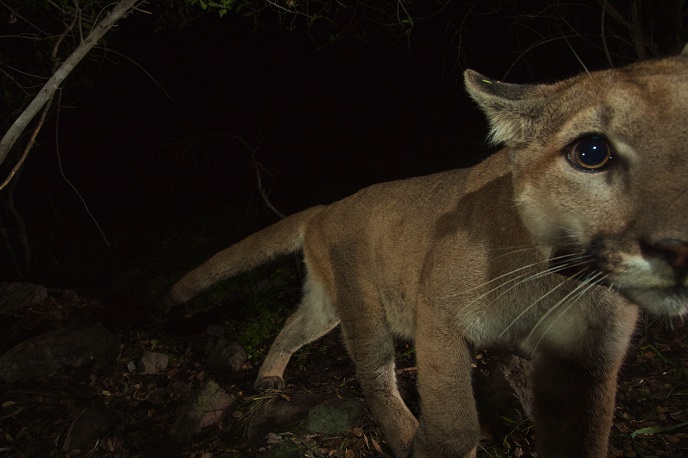 P-32 sniffs a remotely triggered camera in February 2015, just prior to dispersing from his mother. National Park Service photo. 
But why he may have crossed leads us to the other challenge: intra-specific conflict. Mountain lions need ranges of 75 to 200 square miles, with the males taking areas on the higher end. Males try to overlap with as many females as possible and don't tolerate competition from other males. (And in what appears to be an unusual case, P-1 did not share well, even with females. He killed two of his offspring and the mother of those kittens, among other mountain lions.) 
So it makes sense that P-32, still a juvenile at about 21 months old, was likely trying to avoid other males and eventually establish his own range. Getting across the 101 was the first challenge in that effort. It was not, however, the last.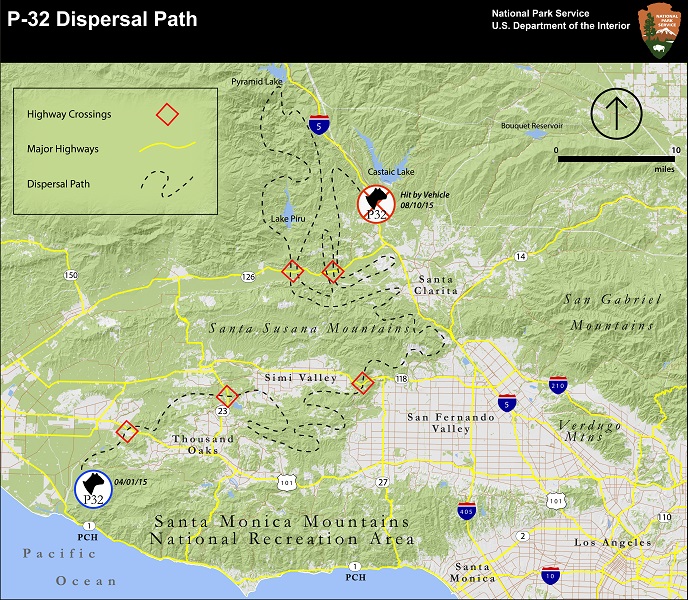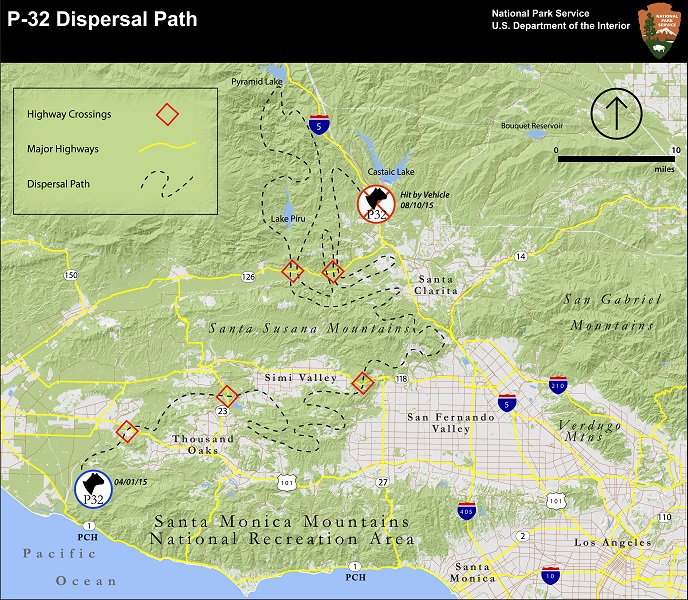 Once past Highway 118 and the rolling Simi Hills, our GPS tracking shows another male mountain lion,
P-38
, was hot on P-32's tracks. Though it's impossible to determine intent based solely on GPS data, P-38 appeared to be closely following the younger animal through the Santa Susana Mountains until P-32 crossed Highway 126 in the Santa Clara River Valley. 
Free at last? Not so fast for P-32. We believe another mountain lion may have pushed him out (It was possibly the very large
P-16
, who also dispersed north of the 126 into Los Padres National Forest before researchers ultimately removed his GPS collar). And it was in that, possibly still searching for a home range, that he met his fate attempting to cross another busy freeway. 
The journey of young P-32 is one of some successes -- at least four freeways crossed! -- but it is ultimately one that reminds us of the many dangers they face, both human-caused and natural. If it isn't dodging cars, then it's rat poison. Or inbreeding. Or, in this case, hulking males not wanting to share their range with other dudes.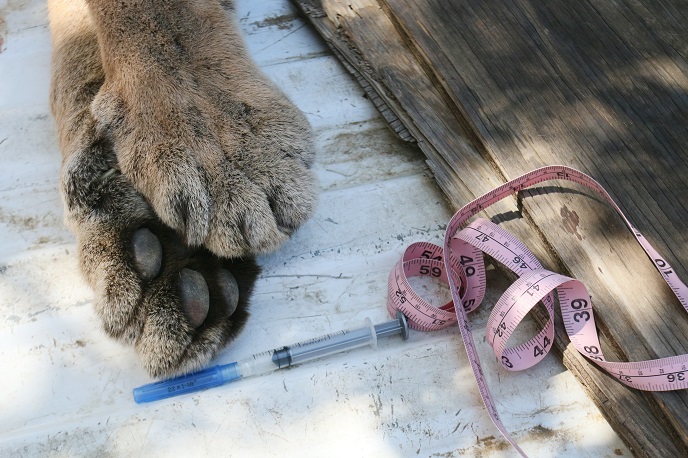 The National Park Service is awaiting lab results from P-32's necropsy, which will indicate, among other things, whether P-32 was exposed to rat poison. National Park Service photo.