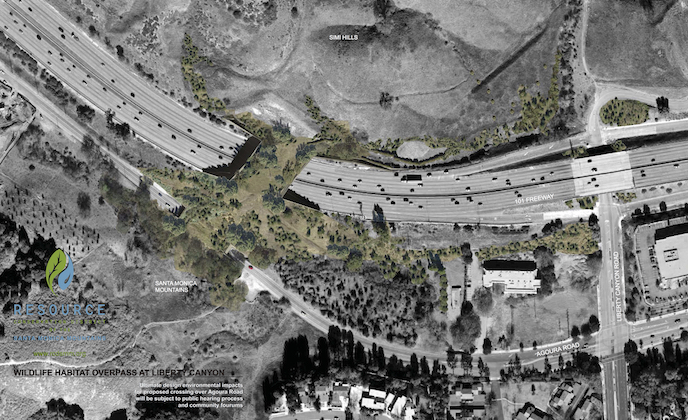 A rendering of the proposed wildlife crossing over the 101 Freeway near Liberty Canyon Road in Agoura Hills. | Image credit: Resource Conservation District of the Santa Monica Mountains.
Big news today. The Los Angeles area is one step closer to having a wildlife crossing between the nearly impenetrable Santa Monica Mountains and the Simi Hills, a gateway to hundreds of miles of connected habitat. 
Specifically, what's called the Project Study Report was completed by Caltrans and released by one of our partners, the Mountains Recreation and Conservation Authority, also known as the MRCA. The report's job is to evaluate the feasibility and cost of a wildlife crossing. In short: Yes, it's feasible, and the cost would be in the neighborhood of $30 million. 
"After spending decades and millions of dollars to conserve open space, it would be a shame not to do this critical piece," notes Dr. Seth Riley, echoing the sentiments of many project partners. Riley, a wildlife ecologist, has been studying local mountain lions for the National Park Service since 2002 and worked on the team that prepared the report.That team also included representatives from Caltrans, MRCA, and the Resource Conservation District of the Santa Monica Mountains.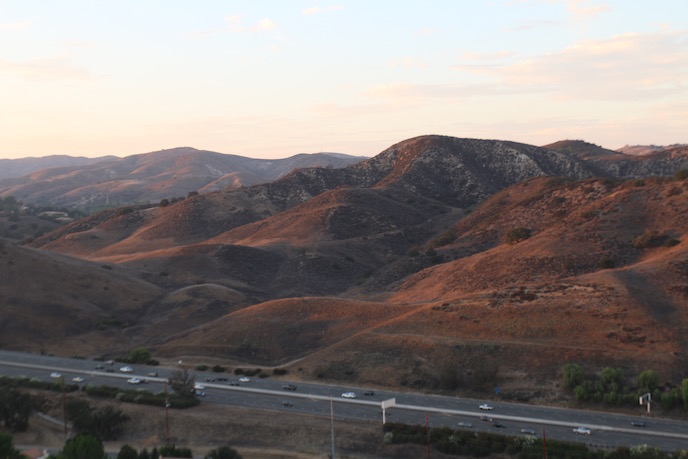 The area around Liberty Canyon is ideal for a wildlife crossing because it connects to large swaths of public land on both sides of the 101 Freeway. | Photo: National Park Service

 
Since 1996, the National Park Service has been studying carnivores -- at first coyotes and bobcats -- examining how they were affected by urbanization and habitat fragmentation. "It's always been critical for us to study connectivity," explains Riley. When Riley and team began studying mountain lions six years later, the research confirmed the presence of the reclusive cats in the Santa Monica Mountains. More than a decade and some 44 mountain lions later, our research clearly points to a need for improved connectivity in order to maintain the long-term viability of the local population. Liberty Canyon was identified as the best spot for that to happen. 
The Santa Monicas, practically speaking, are an island of habitat when it comes to animal movement. If it's not surrounded by ocean, it's city;if not that, then busy freeways. Without true connectivity from the north, our local inbred mountain lion population will continue to have dismal genetic diversity, which is already some of the lowest documented in the country. A crossing would make travel for lions (and many other mammals, reptiles, and birds) across the 101 Freeway a realistic endeavor, upping the chances of increased genetic diversity. 
The National Wildlife Federation and the Santa Monica Mountains Fund have established a fundraising initiative at
savelacougars.org
to raise funds for the engineering design and construction expenses.