Virtual Passport Stamp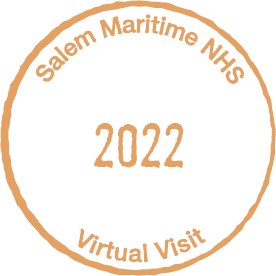 Hello passport enthusiasts! In times like these, parks can fill our need to be inspired and connect with the world around us. Many people have visited Salem Maritime National Historic Site, explored our historic places or taken a self-guided tour. Typically, on your trip, you'd get your passport stamp to add to your growing collection.

However, if you're not able to visit in person and get a physical stamp, you can download a virtual passport stamp. Right-click the image on the right, save to your computer, and print!

Visit our Junior Ranger page to earn a Junior Ranger Badge and get a virtual Junior Ranger passport stamp.

For more virtual passport stamps, check out America's National Parks' Virtual Cancellations!
Last updated: February 23, 2022