Management
The National Park Service preserves unimpaired the natural and cultural resources and values of the national park system for the enjoyment, education, and inspiration of this and future generations. The National Park Service cooperates with partners to extend the benefits of natural and cultural resource conservation and outdoor recreation throughout this country and the world.
We are the stewards of your park, charged with protecting its priceless resources. Explore our staff and offices, compendium, and foundation document for a better understanding of how the National Park Service manages Salem Maritime.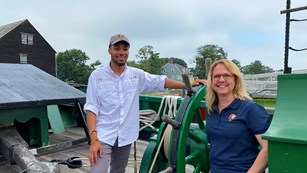 Our Staff & Offices
Learn about the supervision and management of Salem Maritime National Historic Site.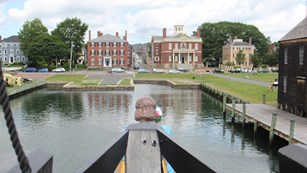 Superintendents Compendium
A list of park-specific administrative orders issued by the superintendent.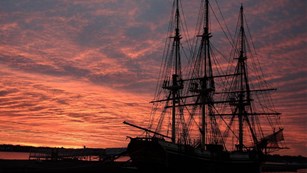 Foundation Document
The foundation document provides guidance for park planning and management decisions.
About
Salem Maritime National Historic Site, established March 17th, 1938, is the first National Historic Site established in the United States. Salem Maritime contains ten historic buildings, nine archeological sites, four historic wharves, and a historic light station that date between 1675 and 1944. The park is also home to the replic tall ship Friendship of Salem, is responsible for managing the Salem Armory Visitor Center, and is a key site and gateway to the Essex National Heritage Area.
Purpose
Salem Maritime National Historic Site preserves and interprets New England's maritime history. The buildings and landscapes on the waterfront of Salem, Massachusetts, illustrate global maritime connections from the Colonial Period through the 19th century.
Significance
Salem played a pioneering role in global trade from the Colonial era through the early republic, particularly to the Far East. These New England maritime connections contributed immensely to the foundation of many institutions and the expansion of American banking, insurance, and market systems.
New England's prominent role in maritime commerce over three centuries is present in both the site's many historic structures and its influence on architecture and literature.
Salem's waterfront served as a critical center of American resistance during the Revolutionary War; its active privateering fleets and its open port allowed trade throughout the war. The Port of Salem also represents one of the most significant generators of revenue for the new republic's federal treasury through customs duties collected at the U.S. Custom House.
Last updated: January 4, 2022