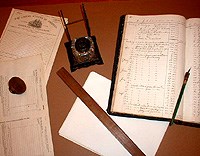 Not all of Salem Maritime's important artifacts are as tall as Friendship or as heavy as the brick Custom House. For a historian, sometimes fascinating stories can be found in small items as well.
In our collection spotlight, we will focus on some of the smaller treasures in our collection. Some, like clothing, can't be displayed because they are too fragile, and some become more interesting the closer you look at them!
Follow the links below to discover more about Salem Maritime's collection.