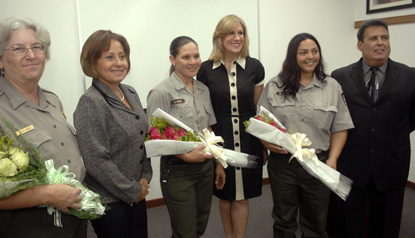 News Release Date:
March 29, 2010
Contact: Dilcia Gonzalez
San Juan National Historic Site celebrated Women's History Month with a special program for all employees at Castillo San Cristobal on March 18th. The program featured several keynote speakers including the First Lady of Puerto Rico, Mrs. Lucé Vela de Fortuño and Ms. Carmen G. Rodríguez Díaz, who recently was appointed as the first female Chief of the Puerto Rico Fire Department. The First Lady spoke about the past achievements of well known Puerto Rican women and commented on how happy she feels in being a neighbor of the park. Ms. Rodríguez Díaz, shared her personal experiences and challenges in pursuing her vocational goals and career progression. The Superintendent Walter J. Chavez also recognized three park employees, Ms. Aleta Knight, Ms. Brenda Colón and Ms. Mildred Reyes, for their contributions and personal achievements with their careers and for encouraging others to follow in their footsteps.
The Park's Cultural Awareness Team was responsible for putting together this special program and concluding the event with a lunch for everyone.
For more information, please call (787) 729-6777 during working hours.