SIXTH ANNUAL KITE FESTIVAL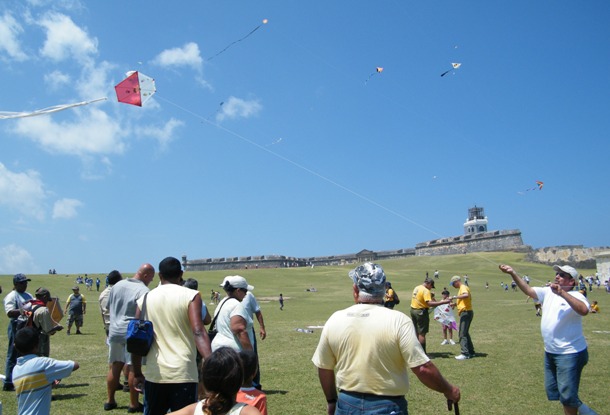 News Release Date:
February 25, 2010
Sixth Annual Kite Festival: Have Fun and Learn About Protecting Your Park and the Environment
As we know, kite flying is a popular local pastime, particularly on the grounds of Castillo San Felipe del Morro in Old San Juan. For this reason, the San Juan National Historic Site will celebrate its 6th annual Kite Festival on the grounds of this beautiful and spectacular historic site on Saturday March 6th,  from 9:00 am to 4:00 pm.. The event is open to the public free of charge.  "Bring your family and friends to fly kites, enjoy the Festival and learn about protecting your National park and the environment" said Superintendent Chavez. The festival aims at educating the public about the damage to our cultural heritage caused by abandoned kites and trash on the grounds of the fortifications, as well to the adverse impact to the wildlife and to the waters of the San Juan Bay. The Kite Festival provides for our visitors to participate in contests, educational talks, and of course kite flying.
Every year half a million people use the grounds of El Morro for picnics, sports and other activities. The National Park Service mission of preservation is challenged by damaging behavior of leaving tons of abandoned kites and food leftovers littering the historic grounds and other areas of the park. Through this event the National Park Service hopes to share and promote environmentally friendly ways to enjoy the SJ National Historic Site, a World Heritage Site since 1983.
The festival will include activities such as a kite flying competition, educational talks, and a kite making workshop. Members of the non-profit organization, Los Amigos de los Fuertes del Viejo San Juan, will give out kites to the first 50 child participants. The event will also have the participation of the Sierra Club-PR Chapter who will inform visitors about their continuing efforts and ardous dedication to the conservation, protection and enjoyment of the natural environment of our island.
For further information, please call (787)729-6777ext 239 or e-mail us.
San Juan National Historic Site is comprised of Castillo San Felipe del Morro, Castillo San Cristóbal, Fort Juan de La Cruz (El Cañuelo), the San Juan Gate, and most of the City Wall. The site is open everyday, except Thanksgiving, Christmas and New Years Day. Admission to San Juan NHS is $3 for adults for one fortification and $5 for both; those 15 and under is free.
Last updated: April 14, 2015