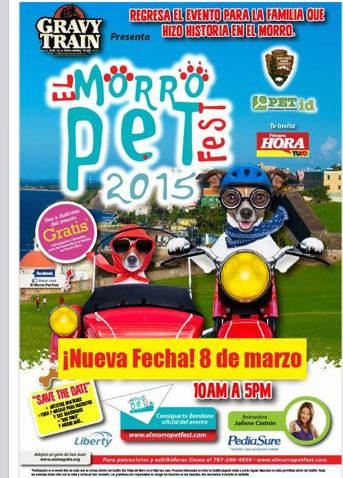 News Release Date:
March 3, 2015
Contact: Yanira Martinez, 787-729-6777
San Juan National Historic Site will host the 4th Annual Pet Festival at Castillo San Felipe del Morro on Sunday, March 8, 2015 from 10:00 a.m. to 5:00 p.m. "This will be our fourth year bringing educational and recreational activities for families and their pets to the esplanade of El Morro and we are pleased to be teaming once again with Pet ID, Gravy Train, Primera Hora, and others to conduct this event", said park Superintendent Walter J. Chavez. "This Pet Festival gives us the opportunity to share the open space of the El Morro esplanade with pets and their pet owners, with special activities and park programs while providing awareness on how visitors can help keep the area clean and safe" added Chavez. Park Rangers will provide educational talks to promote San Juan National Historic Site as a pet friendly environment as well as the problems associated with the abandonment of animals in the park, including the Paseo del Morro. This year's activities include training for dogs, yoga and massage for pets and their guardians by Natura, a doggie park, an adoption center by Save-a-Gato, instant print photos by Silver &Pixel, inflatable playground and cartoons workshops for kids , "paw print" painting, artistic performances, guest artists, guidance on recycling, food gathering for pet shelters, and much, much more. "For many years the grounds of Castillo San Felipe del Morro have been the perfect place to enjoy picnics, flying kites and to enjoy the park with their pets. We want this event to continue fostering such use and emphasize that pets are welcome with their families to enjoy San Juan National Historic Site. But with use of the area, comes responsibility and owners need to be responsible and clean up after their pets and keep them on a leash at all times for all visitors to enjoy the park" added Superintendent Chavez. As we do each year we ask participants to continue this responsibility as they enter and leave Old San Juan. Water stations will be provided along Calle Norzagaray and pick up bags for waste will be provided to festival participants. The participation in this event is free, however, visitors wishing to enter and visit the fortifications still are required to pay the normal fee. Pet owners should be aware that only service animals are allowed inside the fortifications. All pets must wear their collar and leash at all times while they are on the grounds of San Juan National Historic Site. San Juan National Historic Site is comprised of Castillo San Felipe del Morro, Castillo San Cristóbal, Fort San Juan de La Cruz (El Cañuelo), San Juan Gate, and most of the City Wall. The site is open every day from 9:00 a.m. to 6:00 p.m., except on Thanksgiving, Christmas and New Year's Day. Admission to San Juan National Historic Site and its fortifications is $5 for visitors 16 years or more and free for those 15 and under with an adult.
###
San Juan National Historic Site celebrará el cuarto Festival Anual de mascotas en el Castillo San Felipe del Morro el Domingo, 8 de marzo 2015 10 a.m.-5:00 pm, "Este será nuestro cuarto año con actividades educativas y recreativas para las familias y sus mascotas en la explanada de El Morro y estamos muy contentos de asociarnos una vez más con Pet ID, Gravy Train, Primera Hora, y otros para llevar a cabo este evento", dijo el Superintendente Walter J. Chávez. "Este Festival de mascotas nos da la oportunidad de compartir el espacio abierto de la explanada de El Morro con las mascotas y sus dueños, con actividades especiales y programas del parque mientras que logramos que nuestros visitantes hagan conciencia de cómo pueden ayudar a mantener el área limpia y segura", agregó Chávez. Los guarda parques ofrecerán charlas educativas para promover San Juan National Historic Site como un entorno amigable para mascotas, así como los problemas asociados con el abandono de animales en el parque, incluyendo el Paseo del Morro. Las actividades de este año incluyen el entrenamiento para perros, yoga y masaje para los animales domésticos y sus tutores, por Natura, un parque para perros, un centro de adopción por Save-a-Gato, impresión de fotografías instantáneas de Silver &Pixel, parque inflable y taller de caricaturas para niños, pintura de" impresión de la Huella ", espectáculos artísticos, artistas invitados, orientación sobre el reciclaje, la recolección de alimentos para refugios de mascotas, y mucho, mucho más. "Durante muchos años los terrenos del Castillo San Felipe del Morro han sido el lugar perfecto para disfrutar de picnics, volar chiringas y para disfrutar del parque con sus mascotas. Queremos que este evento continúe fomentando tal uso y enfatizamos que las mascotas son bienvenidas con sus familias para disfrutar de San Juan National Historic Site. Pero con el uso de la zona, viene la responsabilidad y los propietarios tienen que ser responsables y limpiar después de sus mascotas y mantenerlas controladas con correas (leash) en todo momento, para que todos los visitantes puedan disfrutar del parque ", agregó Chávez. Como hacemos cada año le pedimos a los participantes continuar con esta responsabilidad al entrar y salir del Viejo San Juan. Las estaciones de agua estarán distribuidas a través de la Calle Norzagaray y se proporcionará a los participantes del festival bolsas para recoger los desechos de sus mascotas. La participación a este evento es gratuita, sin embargo, se requiere pagar el costo de entrada normal aquellos visitantes que deseen entrar y visitar las fortificaciones. Los dueños de mascotas deben ser conscientes de que sólo los animales de servicio pueden entrar a las fortificaciones. Mientras las mascotas estén en los terrenos de San Juan National Historic Site, toda mascota debe llevar su collar y correa en todo momento. San Juan National Historic Site está compuesto por el Castillo San Felipe del Morro, el Castillo San Cristóbal, el Fuerte de San Juan de La Cruz (El Cañuelo), Puerta de San Juan, y la mayor parte de la muralla de la ciudad. El sitio está abierto todos los días de 9:00 am a 6:00 pm, excepto en Acción de Gracias, Navidad y Año Nuevo. La admisión a San Juan NHS y sus fortificaciones es de $ 5 para los visitantes 16 años o mayores y gratuitas para los menores de 15 con un adulto.